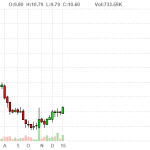 Many of the stocks coming up in my scans are biotech companies So I wanted to see if we can find some that are gearing up for bigger moves.
CARA, 19 Mill float. Just aded to biotech index in December.
clinical-stage biopharmaceutical company, focuses on developing and commercializing chemical entities designed to alleviate pain by selectively targeting kappa opioid receptors.
Nice range break on weekly with some vol. I could see a run up to 13+ before any resistance.
Can be bought with a stop at consolidation zone lows
CERS: Float 76 Mill (a little high to expect huge power but strength of setup warrants a look.
Love this setup. some power and two failed weekly pull back attempts.
Its INTERCEPT Blood System is based on its proprietary technology for controlling biological replication and designed to target and inactivate blood-borne pathogens, including viruses, bacteria, and parasites, as well as potentially harmful white blood cells, while preserving the therapeutic properties of platelet, plasma, and red blood cell transfusion products
Approve by FDA. intercept approvals will allow blood centers to take a more proactive step toward reducing the infectious risk from a platelet or plasma transfusion."
Deals with Baxter,
could be used in every blood center, in U.S. and Europe.
GERN:
Weekly shows consolidation in a wedge but the daily shows something I really like. A gap hold. it This tried on two pull backs to push lower but found support in the 2.90s. If the Momo returns this could go quite a bit higher. The pattern is still young but the R/R would allow s tight stop.
I'm already in this one from daily set up, but this was a very clear and powerful break on a weekly chart as well. With some volume now behind it I would not be surprised to see a shot at 6 or more.
This article – 
Jan. 5, Weekly setups: Biotech blasters
See which stocks are being affected by Social Media