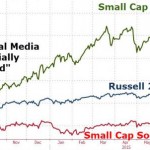 Just over a year ago, Janet Yellen did the unthinkable. In a moment of clarity, The Fed called out two darlings of the momentum-chasing euphoria-driven stock buying frenzy for 'special' treatment when Yellen uttered the Cramer-mind-blowing fact that "small cap social media and biotech stock valuations were substantially stretched." It appears, judging by today's market, that she was half right…
The equal-weighted basket of nine social media stocks (Angie's List, Demand Media, Groupon, Jive Software, King Digital, Pandora Media, United Online, Yelp, and Zynga) is down 23% since Yellen's truthiness (underperforming the broad small cap universe by almost 32%). However, Small cap Biotechs have soared rather than stalled – now up almost 89% since The Fed chair's drubbing.
Of course – she is actually right about both but timing is everything (just ask Greenspan) as small cap biotech valuations move on to be "substantially stretched"-er.
Charts: Bloomberg
Average:
5
Your rating: None Average: 5 (2 votes)
Originally from: 
See which stocks are being affected by Social Media