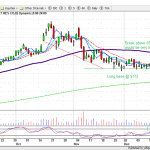 ---
Thursday's Trade of the Day idea features a stock that has a nice technical set-up and favorable seasonality moving into the new year.
Energy has been a bumpy ride this year compared to the broader market (see: XLE vs. SPY). Oil & Gas Exploration & Production stocks in particular have been struggling in Q4 of this year, and have underperformed in an already very mediocre Energy sector.
However, looking at a chart of the Oil & Gas Exploration & Production sub-industry (XOP), it's easy to notice that these stocks seem to be basing after a two month long pullback. Historical seasonality favors Energy in the months of February through May, and O&G E&P stocks look to be at a discount after a tumultuous October and November.
Pioneer Natural Resources (NYSE: PXD) is a constituent of the O&G E&P sub-industry and shares similar price action over the past few months. While it looks a lot like the XOP, the stock has a stronger technical set-up and has outperformed the greater sub-industry for lengthy periods on a weekly basis (see charts below).
Looking at the chart, Pioneer Natural Resources had been uptrending in tremendous fashion all year until the middle of October, when weakness in the space caused the stock to pull back after reaching all-time highs of $224.95 on October 18. A weak earnings report on November 4 caused Pioneer Natural Resources to tumble even further, breaking down below $200 from $220 in just three sessions. Since the decline, Pioneer Natural Resources has been consolidating and has formed a nice long base just above $175. After two weeks of establishing the base with no major downside scares, buyers have stepped back in and are pushing Pioneer Natural Resources back in the right direction.
This afternoon, Pioneer Natural Resources is on the move, breaking higher above all major short-term moving averages and towards the ever-important 50-day moving average. If you look at Pioneer Natural Resources on a weekly basis, the recent pullback does look significant, but the long-term up-trend is still largely intact. The stock also just entered the overbought stochastic for the first time since October 21, which is encouraging moving forward. Pioneer Natural Resources had been stuck in the oversold stochastic for the entire month of November.
A buy of Pioneer Natural Resources is attractive at current prices considering its nice basing pattern, excellent recent price action, and favorable historical seasonality in early 2014. At some point over the next month or two, Pioneer Natural Resources will likely move to retest the $224.95 all-time highs. Taking profits at resistance just below those highs would make more sense and increase the probability of a winning trade, so I would set the price target to somewhere around $213.67. There is a clear stop below the base of recent support at $175.45, and should Pioneer Natural Resources close below this level, we would have a very concerning intermediate-term downtrend on our hands. The upside to this trade is 13.71 percent, while the potential loss is 6.62 percent, making the reward to risk ratio roughly 2:1.
' If you're looking for some exposure to Energy heading into 2014, Pioneer Natural Resources has a wonderful technical set-up and is a great alternative to buying choppy Energy ETFs like the XOP.
When to Consider Entering the Trade:
At the current price (~$187.90).
When to Consider Exiting the Trade:
At a close below $175.45 (Breakdown) / A close at $213.67 or above (Profit-Taking)
Disclosure: At the time of publication the editor and affiliated companies own the following positions: None
Note: Positions may be bought or sold while this publication is in circulation without notice.
Pioneer Natural Resources Co – Last 30 Days 
Pioneer Natural Resources Co – Last 3 Months

Pioneer Natural Resources Co – Last 6 Months

Original source: 
Long Trade Idea of the Day: Pioneer Natural Resources | Benzinga
See which stocks are being affected by Social Media