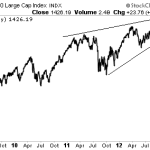 Major Stock Market Crash In January? It's Going To Be A Whole Lot Worse Than In The 1930s
Chart: http://modernsurvivalblog.com/wp-content/uploads/2013/11/major-stock-market-crash-in-january.gif
Is there a major financial crash in our near future? You must check out this stunning analogy between the current day Dow Jones Industrial Index compared with the time period 1928-1929 leading up to the memorable stock market crash…
The pattern of stock price movements looks VERY close to the lead-up to the 1929 top.
A lead-up to just any old top is one thing, but the 1929 top was followed by a memorable decline, which makes it all the more worthy of our attention…
The base graphs of the chart above are sourced from Tom McClellan of McClellan Financial Publications who remarkably uncovered this fascinating pattern based on previous work done by technical analyst Tom DeMark.
http://modernsurvivalblog.com/the-economy/major-stock-market-crash-in-january/
http://modernsurvivalblog.com/tag/economic-collapse/
Why It's Going To Be A Whole Lot Worse Than In The 1930s
Five brief minutes on a Sunday… watch!
http://www.zerohedge.com/news/2013-12-01/why-its-going-be-whole-lot-worse-1930s
The Markets Have Entered a Blow Off Top
http://www.zerohedge.com/contributed/2013-12-01/markets-have-entered-blow-top
Central Banker Admits Faith In "Monetary Policy 'Safeguard'" Leads To "Even Less Stable World"
While the idea of the interventionist suppression of short-term 'normal' volatility leading to extreme volatility scenarios is not new, hearing it explained so transparently by a current (and practicing) central banker is still somewhat shocking. As Buba's Jens Weidmann recent speech at Harvard attests, "The idea of monetary policy safeguarding stability on multiple fronts is alluring. But by giving in to that allure, we would likely end up in a world even less stable than before."
http://www.zerohedge.com/news/2013-12-01/central-banker-admits-faith-monetary-policy-safeguard-leads-even-less-stable-world
FED Chairman Bernanke reveals new concerns about economy even as he forecasts faster growth in 2014
Federal Reserve Chairman Ben S. Bernanke and his colleagues are suffering through their own form of cognitive dissonance: revealing new concerns about the economy's long-term prospects even as they forecast faster growth in 2014.
Worker productivity, a key component of an economy's health, has risen at an annual clip of 1 percent during the last four years, as the U.S. has struggled to recover from the worst recession since the Great Depression. That's less than half the 2.2 percent average gain since 1983, according to data from the Labor Department in Washington.
"Slower growth in productivity might have become the norm," the central bankers noted at their Oct. 29-30 meeting, according to the minutes released last week. That's a switch from past comments by Bernanke that the deceleration probably was temporary and would end as the expansion continued.
A combination of forces may be at work. Chastened by the deep economic slump, corporate executives have reduced spending plans for factories, equipment, research and development. Startup businesses have been held back as would-be entrepreneurs find it harder to get financing from still-cautious lenders. And out-of-work Americans have seen their skills atrophy the longer they're without jobs.
"We're in a slow-growth period of unknown duration," said Edmund Phelps, a professor at Columbia University in New York and winner of the 2006 Nobel prize in economics.
http://mobile.bloomberg.com/news/2013-11-27/fed-reveals-new-concerns-about-long-term-u-s-slowdown.html
Did you already share this? No? Share it now:
Original article – 
Major Stock Market Crash In January? It's Going To Be A Whole Lot …
See which stocks are being affected by Social Media