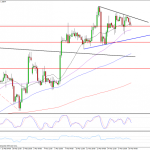 Morning technical analysis – 19 March 2014
March 19, 2014
by
in
EURUSD
As you can see on the chart below, the recent uncertainty has created plenty of volatility in the markets, but we haven't actually seen any moves higher or lower. The pair, despite all of the volatility, has just been consolidating, which is not unusual during times of uncertainty. The triangle that has formed as a result has seen a lot of pressure on the upside which, along with the fact that is came following an uptrend, is bullish. The pair has also struggled to maintain a significant move below the 20-period SMA on the 4-hour chart, which I think is indicative of the bullish bias in the pair. We could continue to see consolidation in the pair in the next couple of days but I do expected to eventually see a breakout to the upside. If we do, the next major resistance should be 13 March highs of 1.3966.
GBPUSD
Sterling is continuing to look bullish despite the recent consolidation. The recent price action has only made me more bullish if anything because despite all of the choppiness, the pair has failed to break back below the flag formation that it broke above at the end of February, as well as the neckline of the double top that has formed throughout this period. The latter has held strong on two occasions now. If we can see a break above the middle bollinger today if could prompt an assault on the upper bollinger shortly after. Given that we're currently seeing a squeeze in the bands, an aggressive breakout could follow. Whichever way we break out of the bands, a close above or below should give us a strong indication of what the next move will be. The only question is when that will come.
USDJPY
This pair is looking pretty ugly at the moment. Previously it had trended up very nicely, we'd seen the correction back to the 50-fib level and a bullish ascending triangle had formed. Everything was looking quite bullish but this great setup appears to have fallen apart in recent weeks. This is largely due to previously unknown fundamentals prompting risk aversion and driving traders towards the yen. It could be argued that the consolidation following the bounce off the 50 fib was a bearish continuation setup but I disagree as the pair has been well supported, around 101.38, since breaking below the triangle. Instead, this simply looks like a delayed bullish move which we may have to wait a little longer to materialise. If we see a break above 102.70, that would be a good sign that the bullish move has begun, but I will need to see a break above 7 March highs, 103.75, before I feel more confident. For now, a double bottom appears to be forming on the 4-hour chart, which if the neckline is broken, could prompt a move towards 102.30, based on the size of the formation.
Author: Craig Erlam
Tagged EUR/USD, Fibonacci, Fibonacci Expansion, Fibonacci Retracement, foreign exchange trading, forex, forex uk, FX, GBP/USD, Metatrader 4, Moving Averages, MT4, MT5, Resistance, Support, Technical analysis, Trend line, USD/JPY
More:  
Morning technical analysis – 19 March 2014 | Alpari Newsroom …
See which stocks are being affected by Social Media