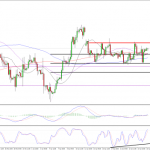 Morning technical analysis – 25 April 2014
April 25, 2014
by
in
,
EURUSD
The euro is creeping higher again this morning but the picture hasn't really changed here. The pair is still range bound, with support being found around 1.3788, from the 50 fib level – 4 April lows to 11 April highs – and resistance around 1.3850. While it is always a concern when a fib level is repeatedly tested, rather than rebound higher following the first attempt, the level has provided significant support until this point and as a result I remain bullish for now. This is helped by the divergence being seen with the stochastic making higher lows while the price action is repeatedly testing the 50 fib level. The three major tests of this level have potentially left us with a triple bottom formation, with the neck line being the resistance at 1.3850. If we see a break of this level, based on the size of the pattern, we should see the pair target 1.3915. That said, the pair ran into significant resistance just below here two weeks ago, around 1.3905. Given the tendency for price action to react to previous levels of support and resistance, this may be a more conservative target should we see a breakout above the neckline of the triple bottom. It also falls very close to 1.39, which while not being a major psychological level, is likely to provide some resistance. On the other hand, should we see a break lower, support should be found around 1.3761, 61.8 fib level.
GBPUSD
This pair is also trading in a tight range at the moment with resistance being found around 1.6840 and support around 1.6770. I'm seeing nothing at the moment that would suggest we're going to see a breakout. The pair did find resistance around 1.6809 from the 61.8 fib level – 22 April highs to 23 April lows – and therefore failed to reach the top of the range which could be a bearish signal. That said, we can't read to much into that as a similar thing happened earlier in the week and the pair has continued to trade within the same range since. Given that the longer term trend is bullish, it is logical to assume this is just a consolidation period and the trend will continue. That said, we will need to see confirmation of this with a significant break above 1.6840, which would mean the pair hitting four and a half year highs. The next level of resistance should then come around 1.6877, previous high in November 2009. Should we see a break below 1.6770, further support should be found around 1.6750, previous resistance.
USDJPY
This pair is also range bound at the moment, with support being found around 101.30 and resistance around 102.70. As it stands the pair is showing no signs of breaking out but that could change over the next couple of weeks. An ascending trend line, which dates back to 25 February last year, has intersected the trading range and could provide support initially around 101.50. Should the pair respond to this and start making higher lows, it would result in a fairly bullish setup. In the short term, the pair is looking a little bearish although it's clearly struggling to gain any downward momentum. That said, we are seeing lower highs and lower lows on the 4-hour chart so the bearish outlook in the short term is valid. The 38.2 fib level – 11 April lows to 22 April highs – is providing support right now and has been for a couple of days. Further support should be found below here around 102.02, 50 fib level, followed by 101.85. Should we see the 38.2 fib hold, it could be quite a bullish signal with it being a fairly shallow pullback and could be followed by a breakout attempt above 102.70. Resistance above here could then be found around 103.75 and 104.13, both previous levels of resistance.
Author: Craig Erlam
Tagged EUR/USD, foreign exchange trading, forex, forex uk, FX, GBP/USD, Metatrader 4, MT4, MT5, USD/JPY
Read original article – 
Morning technical analysis – 25 April 2014 | Alpari Newsroom | Live …
See which stocks are being affected by Social Media