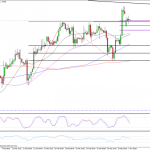 Morning technical analysis – 3 March 2014
March 3, 2014
by
in
EURUSD
The euro is trading higher against the dollar this morning after gapping lower over the weekend. The flight for safety has seen the dollar strengthen against most currencies over the weekend, although we have seen the euro pare some of these losses already today. The pair opened the week around the 50 fib level, 28 February lows to highs, before edging higher which could in itself be viewed as quite bullish. That said, this may be more likely to be driven by traders appetite for risk in the coming days rather than just following the recent trend. If the pair does continue higher, resistance could be found around 1.38, where it closed on Friday, thereby closing the gap. Above here, last week's highs around 1.3824 should provide further resistance, followed by 1.3835, the descending trend line. If the pair continues lower, support should be found around 1.3754, today's low, followed by 1.3743, 61.8 fib, 1.3732, 20 and 50-period SMAs on the 4-hour chart and 1.3692, previous lows.
GBPUSD
Sterling has erased most of the losses is suffered against the dollar over the weekend, after the pair gapped lower. This may highlight the bullishness of this pair in the market at the moment. That said, as with the other pairs, this may be driven largely by risk appetite in the coming days, rather than reflecting traders view on the pair in the longer term. The pair has already found support around 1.67, key resistance level last week, which could also be viewed as a bullish signal. Confirmation of this will be needed though, preferably with a break above last week's highs of 1.6768, although a break above the descending trend line from Friday's highs will be a good first step. Above here further resistance should be found around 17 February highs of 1.6822. If the pair moves lower, support should be found around 1.67, followed by 1.6675, 50-period SMA on the 4-hour chart, and 1.66.
USDJPY
While the dollar is benefiting from its safe haven status against most currencies this morning, the yen is generally seen as the preferred choice, as we're seeing again today. The pair gapped lower over the weekend, before closing the gap fairly quickly and continuing to edge lower. The pair has now taken out its previous lows from 17 February, meaning the next major support should come around 100.75, this year's lows. Below here we also have support around 100.60 from the 50-fib level. This is also a previous level of resistance. Below here we have an ascending trend line and the 200-day SMA around 100.15.
Author: Craig Erlam
Tagged EUR/USD, Fibonacci Expansion, Fibonacci Retracement, foreign exchange trading, forex, forex uk, FX, GBP/USD, Metatrader 4, Moving Averages, MT4, MT5, Resistance, Support, Technical analysis, Trend line, USD/JPY
See the original article here – 
Morning technical analysis – 3 March 2014 | Alpari Newsroom | Live …
See which stocks are being affected by Social Media