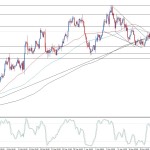 RBNZ Raises OCR from 2.75% to 3.00%
The Reserve Bank of New Zealand (RBNZ) was expected to raise the Official Cash Rate (OCR) from 2.75% to 3.00%. This is the 2nd rate hike from the 2.50% OCR that persisted since March, 2011. The RBNZ statement noted inflationary pressure several times, so it might pay to pay extra attention to inflation data now that the bank has put in 2 rate hikes in a row.
RBNZ governor Graem Wheeler noted:
"Headline inflation is moderate, but inflationary pressures are increasing and are expected to continue doing so over the next two years. In this environment it is important that inflation expectations remain contained. To achieve this it is necessary to raise interest rates towards a level at which they are no longer adding to demand." (Source: RBNZ Statement)
In April, NZD/USD was in a bearish correction, but after the RBNZ rate hike, the chart shows a bullish continuation signal.
(nzdusd 4h chart, 4/24)
Price Bottom and Bullish reaction:
Looking at the Kiwi's 4H chart we can see that traders put in support at 0.8553. It  has since popped up but came down to test this bottom ahead of the RBNZ statement.
After the central bank's announcement, price looks decisively bullish pushing to a new high on the week.
Resistance:
The next challenge will be in the 0.8640-0.8650 area, a support/resistance pivot. Then we have 0.87 and the 0.8744, 2014-high, in the scope. It should be noted that NZD/USD has been bullish throughout 2014, but has become more choppy since March. Still, the pattern of higher key highs and higher key lows reflect an intact bullish market.
Fan Yang, CMT is a forex trader, analyst, educator and Chief Technical Strategist for FXTimes.

Information and opinions contained in this report are for educational purposes only and do not constitute an investment advice. While the information contained herein was obtained from sources believed to be reliable, author does not guarantee its accuracy or completeness. FXTimes will not accept liability for any loss of profit or damage which may arise directly, indirectly or consequently from use of or reliance on the trading set-ups or any accompanying chart analysis.
Read this article – 
NZD/USD Signals Bullish Continuation after the RBNZ Rate Hike …
See which stocks are being affected by Social Media