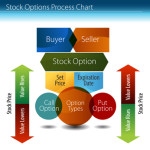 There's a whole new world of trading nowadays where you get to trade stocks, futures, forex, and commodities without practically owning them. This is options trading.
What is Options Trading?
Options trading is the simultaneous or mixed buying or selling of options or contracts sold by a broker to a trader. In options trading the trader is being offered the right to buy (call) or sell (put) a security, a financial asset, a forex condition, or a commodity deal at a price that both the broker and the option trader agree upon during a particular period of time and for a specific duration.
Buying an option means purchasing a call option, or the contract that the price would go up. On the other hand, selling an option means purchasing a put option, or the contract that the price would go down.
Owning an Options Contract
Owning an options contract is more like owning a derivative, which is a financial instrument that derives its value not from its own worth, but from its value relative to the underlying value of the security and the time when the contract ends.
For example, owning an IBM option does not mean that this option has an intrinsic value. In fact, as this IBM option nears its end and is almost winning, then its value is increasing, and as it finally wins, then its value is the maximum value that was agreed before the trade was carried out.
Related Topic: Learn how to trade. Interact and learn with the best traders online. Click here to join now!
Moreover, options are like contracts and so they have expiration dates. The value of the option is determined as it nears its expiration, and its true value is only realized after the contract ends. The option trades and the time is consumed only during the time that the security or asset is being traded. For example, if you bought a EUR/GBP forex option, you can only determine its value during weekdays as EUR/GBP is not traded during weekends.
Options can be any of the following: stocks, commodities, indexes, and forex.
Stock Options
In stock options, you choose a particular stock like Apple, Google, or Amazon, and determine whether it will go up or down in the next few minutes or years. If you bought a Google call option on Monday 04:33 at an agreed 50% of your money and if it goes up before its expiration on Tuesday 04:33, then your $100 will turn into $150 in 24 hours.
On the other hand, if it falls by the time it reaches the expiration, then either your $100 becomes $10 (decrease of 90%) or $0. However, since in option trading, everything is laid out already, then your amount of loss is already predetermined.
It is therefore imperative that you should study whether a company has been going up or going down. You should use both technical (using graph interpretation) or fundamental (using analysis of news and events) analysis of a stock before deciding on whether to put call or put.
Commodity, Index, & Forex Options
Anyhow, if you feel that stocks are hard to trade, then you can do commodities like oil, gold and silver; indexes like NASDAQ or Nikkei; or forex like EUR/USD or USD/JPY, whichever it is you are comfortable with. There must be at least one asset type that you are good at. The good thing is that you can always get proper education before investing. The key to this is choosing a good broker.
Options Trading Brokers
There are good brokers for options trading that provide not only e-books and personalized training, but also virtual accounts that you can use to practice trading the assets using virtual money and at absolutely no cost to you.
One of these good brokers is OptionsHouse.com, where you can almost have total freedom in manipulating the financial conditions of your options, which can range from forex, commodities, stocks, indices and even random indices. With this broker, you can have even other styles of options trading like ends between/ends outside, stays between/goes outside, or touch/no touch options. A touch option means that if the asset graph touches the specified value, you win; if it doesn't, you lose. It is entirely opposite with a no-touch option. Moreover, what is good about Binary.com is that it has plenty of materials for you to study and practice with.
Another broker is OptionsXpress.com, where there is always a competition among traders, multiple language support, personalized trading and almost daily updates.
Other good brokers include Etrade, InteractiveBrokers.com, and TradeKing. You can always search Google for other good options trading web sites and don't forget to read the independent reviews on each.
Creating Monthly Cash Flow with Options
The good thing about options is that you can always create a regular monthly cash flow with any good broker or options trading company. You can do this either by playing it safe or trading using a variety of financial trading tools like MACD or other technical graphs.
When you are not very good at options trading, you can play it safe by trading only small amounts for small profits but with very favorable trading conditions or with obviously winning results. However, if you think you are good at this already, then you can do well with all the financial tools ready and you can constantly target big wins.
However, you can only do this if you can recognize a good timing or favorable times to trade. If you still think that options are just too complicated for you, then perhaps you are into stock market trading or investing.
Owning an option contract vs. owning shares in a stock
Owning shares in a stock means that you have to purchase stocks directly from the company that you wish to buy shares from. The brokers are different here, but basically the same thing goes, only that you are buying more expensively since these are actual shares of stocks that you are dealing with.
One good broker to start with is Etrade.com, where you can set up an account, fund it and buy the stocks of your choice. You need to risk a larger amount of money though, like if you want to buy Apple shares at $570 each, then you need at least $2280 to buy just 4 shares, and you still don't know when you're gonna hit a profit – perhaps a year or so. In options trading, however, you can buy just a $500-option and if you know it is going to go up and it does, then you get as much as $900 after a single trading day.
If you would like to learn how to become a better options or stock trader,
clicking this link might help you!BioGoogle+LinkedInLatest Posts
Entrepreneur infatuated about learning how the wealthy make their money, grow businesses, build financial teams, invest, and manage taxes, so that I can apply and share this knowledge with the rest of the world.
Options Trading: How to Get Paid to Buy Stocks – January 1, 2014
Self-directed IRAs: Complete Investors Guide – December 28, 2013
Laura Ingraham's Woman Political Talk Show is One of the Most-Listened to in America – December 27, 2013
See original article here – 
Options Trading: How to Get Paid to Buy Stocks – Personalincome.org
See which stocks are being affected by Social Media