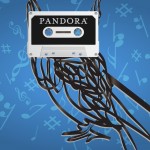 Pandora Media Inc Revenue Miss Sends Stock Trading Down 19%
Pandora Media reported a miss on revenue consensus estimates, following which the stock traded down by around 19%
By:
Published: Feb 6, 2015 at 9:41 am EST
Pandora Media Inc (NYSE:P) stock is trading down by around 19.28% at $14.86 as of 9:17 AM EST on Friday, following disappointing fourth-quarter 2014 (4QFY14) results posted after the markets closed on Thursday. The music-streaming service provider posted a miss on both revenue and earnings per share (EPS) estimates.
Pandora reported revenues of around $268 million for the quarter, which was up 33% year-over-year (YoY); however, the figure missed analysts' estimates of $276.56 million. The revenue miss was largely attributed to the sluggish growth in mobile advertisement revenues for the quarter.
Advertising revenues for Pandora made up around 82% of the total revenues for the quarter, coming in at $220.1 million. The segment's revenues showed a 36% YoY increase. Subscription and other revenues for the quarter came in at $47.9 million, showing a 24% YoY increase.
The company reported net income of around $12.6 million, compared to the $9.1 million reported in the same quarter last year. Pandora's 4QFY14 EPS came in at 18 cents, while analysts were expecting the company to report EPS of 18.7 cents.
The company also provided guidance for both the first quarter and full year 2015 (1QFY15 and FY15) in the press release. Pandora expects to post 1QFY15 revenues in the $220-225 million range. For the full year, revenues are expected to come in between $1.15 million and $1.17 million.
More P research by Bidness Etc
You might also like this:
AbbVie Inc (ABBV) Stock Gets Buy Rating From JeffriesComments




View post: 
Pandora Media Inc Revenue Miss Sends Stock Trading Down 19%