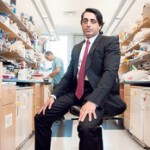 In 1996, fresh out Harvard, Rajiv Kaul went to work as an analyst covering biotechnology at Fidelity Investments. At the time, the sector was still considered a risky niche—the perfect project for the new guy. "Biotech was viewed like a lottery ticket," says Kaul, 41. "It was something conventional investors shied away from."
Where others saw uncertainty, Kaul saw possibility. After his Harvard liberal-arts studies, he immersed himself in the industry, becoming a regular at genome conferences; getting to know tiny firms, even if they were years away from going public; and following ideas through to the clinical level. "I want a view of the entire biotech ecosystem," says Kaul, who is a member of the Research Advisory Council at Massachusetts General Hospital, the teaching arm of Harvard Medical School.
Fidelity's Rajiv Kaul has seen a world of changes in the biotechnology industry. Jared Leeds for Barron's
These days, it's quite a view. Seventeen years after Kaul cut his teeth on the sector, biotech is at the forefront of medical innovation. And since 2005, he's managed the Fidelity Select Biotechnology fund (ticker: FBIOX).
"Six of the top-10-selling drugs today are biotech," he says. "The whole industry has moved away from chemistry to biology." Traditional pharmaceuticals are derived from plant- and chemical-based compounds. Biotechnology therapies are made using living organisms and are proving more successful at treating intractable medical conditions, such as cancer, hepatitis, and autoimmune disease. Meanwhile, biotech has even wider applications, from unlocking clean sources of energy to optimizing crop yields—a controversial area, Kaul acknowledges, but perhaps the best solution in parts of the world where food is scarce. Most biotech stocks are still focused on medical, and most of the portfolio reflects that, but Kaul has owned agricultural companies, such as Monsanto MON -2.6759860209685473% Monsanto Co. U.S.: NYSE USD97.47 -2.68 -2.6759860209685473% /Date(1440191002238-0500)/ Volume (Delayed 15m) : 4431148 AFTER HOURS USD97.47 % Volume (Delayed 15m) : 146928 P/E Ratio 17.721818181818183 Market Cap 45599877188.2141 Dividend Yield 2.21606648199446% Rev. per Employee 681161 More quote details and news » MON in Your Value Your Change Short position (MON), that use biotech. (See "Planting the Seeds of Growth," for a story on Monsanto CEO Hugh Grant.)
"To be at the center of that is very exciting," Kaul says. It's also been an exciting time for investors. In the past two years, the Nasdaq Biotechnology Index has climbed 118%. His $6.8 billion fund has averaged 38% annual returns over the past three years, better than 99% of health mutual funds. The fund is up nearly 50% this year alone.
Investor enthusiasm reflects what Kaul considers the start of a golden age for biotechnology. "The best is yet to come," he says. But he's quick to point out that the cancer treatments or HIV therapies that may come within the next decade are the result of years of research, hundreds of millions of dollars—and many, many failures. In that sense, he says, biotech is the best and worst of the business world. "We will see lots of new medicines emerge in the next five to 10 years, and that will add a lot of value to society and shareholders," he says. Yet, "most drugs do fail."
HERE'S WHERE KAUL goes to work. Though he likes to say he stumbled into biotech, he excelled at math and science while growing up in India, and, in college, won a NASA scholarship to study global warming. He's just as comfortable scrutinizing clinical data as he is studying corporate balance sheets. "You can't think of it in traditional paradigms as Wall Street looks at pharmaceuticals," he says, referring to the notion that risk drops as a company moves through U.S. Food and Drug Administration phases. "It's about knowing the top scientists in the field, talking to patient advocates, taking into account the FDA, understanding how insurance companies will view the drug and pay for it, and how all of that changes globally."
To further mitigate risk, Kaul spreads the portfolio across roughly 100 companies in various stages of maturity. On one end of the spectrum, roughly 70% of the holdings are established companies with more than one product and strong cash flow to fund new research or acquisitions. "If a company has strong cash flow, it's generally protected on the downside," says Kaul.
That was the case with top holding Amgen AMGN -3.698417623332299% Amgen Inc. U.S.: Nasdaq USD155.19 -5.96 -3.698417623332299% /Date(1440190800292-0500)/ Volume (Delayed 15m) : 6079285 AFTER HOURS USD155.9 0.71 0.4575037051356402% Volume (Delayed 15m) : 129078 P/E Ratio 20.55496688741722 Market Cap 117672819351.196 Dividend Yield 2.036213673561441% Rev. per Employee 1150840 More quote details and news » AMGN in Your Value Your Change Short position (AMGN), which was trading at about $50 a share in 2009 when Kaul took a significant position. At the time, it was under the cloud of global economic malaise; its anemia drug, Aranesp, was under regulatory scrutiny—in 2012 Amgen pled guilty to misbranding it; and the pipeline wasn't showing much promise. But Kaul was encouraged by Amgen's double-digit free-cash-flow yield. "What Wall Street was missing was the company was spending $3 billion a year on [research and development]," he says. The company went on to release its blockbuster bone-strengthening drugs Prolia and Xgeva. The stock is up 98% over the past three years, and is still the fund's No. 2 holding. Amgen will likely purchase another of Kaul's top holdings, cancer-drugmaker Onyx Pharmaceuticals (ONXX).
Fidelity Select Biotechnology
Total Returns*
1-Yr
3-Yr
5-Yr
FBIOX
56.4%
37.5%
19.2%
MSCI IMI Bio 25/50
54.9
33.3
17.7
% of
Top 10 Holdings
Ticker
Portfolio**
Gilead Sciences
GILD
14.2%
Amgen
AMGN
12.1
Celgene
CELG
7.0
Biogen Idec
BIIB
6.8
Vertex Pharma
VRTX
4.4
Alexion Pharma
ALXN
3.9
Regeneron Pharma
REGN
3.7
Aegerion Pharma
AEGR
3.0
Onyx Pharma
ONXX
2.3
BioMarin Pharma
BMRN
1.9
Total:
59.3%
*All returns are as of 8/8; three- and five-year returns are annualized.
** As of 06/30/13.
Sources: Morningstar; MSCI
IN SOME CASES, SMALLER biotechnology companies gain stability from key partnerships. Kaul bought another one of his top holdings, Regeneron Pharmaceuticals REGN -3.561693954083966% Regeneron Pharmaceuticals Inc. U.S.: Nasdaq USD527.18 -19.47 -3.561693954083966% /Date(1440190800015-0500)/ Volume (Delayed 15m) : 1488659 AFTER HOURS USD529 1.82 0.34523312720512916% Volume (Delayed 15m) : 13079 P/E Ratio 131.46633416458852 Market Cap 54662696415.3879 Dividend Yield N/A Rev. per Employee 1161140 More quote details and news » REGN in Your Value Your Change Short position (REGN) in the summer of 2010, when it was trading below $40 a share, prior to the launch of its macular-degeneration treatment, Eylea. Wall Street's expectations were low—it now trades at $253—as many investors didn't understand the value of Regeneron's partnership with Paris-based health-care giant Sanofi san.fr -2.385646687697161% Sanofi ADR U.S.: NYSE USD49.51 -1.21 -2.385646687697161% /Date(1440190913412-0500)/ Volume (Delayed 15m) : 1427405 AFTER HOURS USD49.42 -0.09 -0.1817814582912543% Volume (Delayed 15m) : 27069 P/E Ratio 22.678266830535353 Market Cap 131036067835.379 Dividend Yield 3.2504443546758233% Rev. per Employee 377735 More quote details and news » san.fr in Your Value Your Change Short position (SAN.France). "Because that research was funded by Sanofi, it really mitigated the downside," says Kaul.
With relatively stable companies accounting for most of the portfolio, Kaul can venture into newer, more niche biotech companies. "Many of these companies will be leaders within the next decade," he says, or get scooped up by a larger firm.
Doubling or tripling one's money is no doubt more difficult now that many stocks have been bid up. "This group is prone to bubbles," says Kaul, adding that today's pricey valuations suggest that biotech investors are a bit exuberant. His remedy for the sector's volatility is investing with a long time horizon in mind.
"This is how I like to invest, and how I encourage my shareholders to invest," he says. "One needs to be able to stick it out through periods of exuberance and disappointment."
E-mail: [email protected]
Originally posted here:  
Putting Biotech Stocks Under the Microscope – Barron's