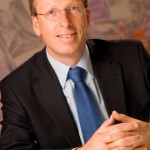 A few weeks ago IBM, ASTRON, the Netherlands Institute for Radio Astronomy, and the University of Groningen (UoG) formed the European Research Center for Exascale Technology (ERCET) to address some of the greatest societal challenges facing The Netherlands today including energy, healthcare and water management.
One of the orchestrators of the collaboration was Dr. Jan de Jeu, vice president of the University of Groningen. Dr. de Jeu believes the effort will result in the creation of a "Data Industry Valley" in the northern Netherlands. The Smarter Planet blog caught up with Dr. de Jeu to learn more.
Smarter Planet: We are seeing a major trend in the information technology market where universities are globally partnering with industry. What is driving this strategy?
de Jeu: Information technology will be the most important game changer in the world economy the coming decades. But in order to make this happen, many very interesting IT-related scientific questions have to be addressed. So industry and universities have a common interest in finding answers to fundamental questions, particularly about how to handle the enormous amounts  Big Data which is generated daily.
SP: ERCET has very large ambitions for equally large challenges. What role does UoG have in the effort and are you open to more Dutch universities participating?
de Jeu: The northern Netherlands is an important base for data industry in Europe and the UoG is involved in two very large scientific datasets: LifeLines, a longitudinal study on healthy aging with data being collected on health and the life style of 165,000 people over a period of 30 years. The other project is called LOFAR, the Low-Frequency Array for radio astronomy, built by ASTRON. So our scientists and IT-specialists are already involved in some of the fundamental questions related to storage and moving around and analyzing enormous amounts of data.
Other projects like TARGET and the IBM and ASTRON DOME project are therefore, so to speak, stepping stones for the larger ambitions of ERCET.
And yes we certainly are open to more universities, not only Dutch, in these collaborations. Research is all about cooperation between the most talented people, so we will actively seek cooperation globally.
SP: Some may be skeptical about how scientific projects can improve the economy in a region. What would you say to them to address their concerns?
de Jeu: Looking at the northern Netherlands we have concluded that there are already many data industry activities. So we aren't starting from scratch. What we intend to do is to strengthen the ecosystem in the area of high tech systems and materials and the bases for further developing the data industry. There will be a direct impact by doing research projects and there will be a long term economic effect by establishing a knowledge infrastructure that will support new business initiatives and will attract interested parties to come to this region.
SP: The ERCET project is framed around Big Data, analyzing it, making sense of it and securing it. What classes are available at UoG today on these topics and what expectations do you have as this project moves forward?
de Jeu: Working with Big Data will become more and more main stream in science. Therefore many bachelor and master programs pay attention to the topic of Big Data. In addition there are specialized programs like our master in Computer Science, a summer school on the Fundamentals of Biobanking and Cohort Research, etc.
Our master programs will gain particular benefits from our research. That means that moving forward with ERCET and as it grows we will more or less automatically be led to offer more Big Data related educational programs to fulfill the demand.
Read this article: 
Q&A With Dr. Jan de Jeu, Finding Common Ground in Big Data « A …