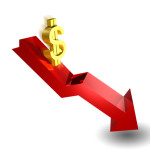 RadioShack (NYSE:RSH), country's one of the leading retailer stock price is trading below $1. This has happened for the first time in the history of RadioShack's stock market.
There are also speculations that RadioShack will be delisted from the share market.
On Friday Afternoon, the shares of RadioShack Corp fell 9 cents. Earlier it was also traded at 91 cents per share. The NYSE may delist the stock if the share price remains below $1 USD for more than 30 business days.
The all-time high for RadioShack (NYSE:RSH) IS $79.50. This happened 15 years back in December 1999.
RadioShack has been trying hard to solve the situation by renovation of their stores, changing the management. They have been cutting the costs wherever possible, but this doesn't seem to be working out. The main reason behind the downfall is being considered as the slow growth in wireless business.
Earlier in March, the company (NYSE:RSH) management has also announced that they will be starting 1100 more stories within the United States, but in May talks with their lenders failed. Instead of starting new stores, the failure of their agreement with the lenders led to the closure of fewer stores.
RadioShack has entered into joint venture with Quirky and PCH recently. We have to wait and watch whether this move will turn around company's (NYSE:RSH) fate in the NYSE.
Continue reading:
RadioShack (NYSE:RSH) Share Price Trading Below $1 USD | Wall …