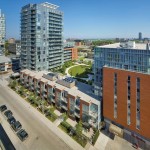 At what point do you simply throw up your hands and "Alright, I'm in," when it comes to buying into the incredible value in Regent Park?
Every day, I scroll through new listings on MLS and I scoff at the low prices of condos on Cole and Sackville Streets, and I wonder when buyers will start flocking there in droves.
I don't know how long it will take for the area to outgrow the sting of the two words "Regent" and "Park," but I do know that my beloved St. Lawrence Market neighhourhood was full of boarded-up buildings twenty years ago.
Has Regent Park become a "buy low" proposition?
On Monday night, I had a young man meet me at the office so he could pick my brain about the Toronto condo market.
Admittedly, this young man wasn't planning on buying for upwards of a year, but he still wanted to get his feet wet, put a face to a name, and ask a few questions about condos in the downtown core.
One of the questions he asked me was, "What are the up-and-coming neighbourhoods as you see them?"
I basically answered back, "What makes you think there are any?"
Up-and-coming?  We're in Toronto here, folks.  There aren't any secrets left in this city.
Neighhourhoods, plural, as though there are a bevy to choose from.
But he put me to the test, and said, "If you had to pick one, what would it be?"
So I thought about it, and I said, "I guess it would be Regent Park."
Wow, did I ever think the day would come?
The young man and I chatted for close to an hour, and I regaled him with stories from my formative years, like everybody's favourite grandfather.  I swear, I'm a 90-year-old man in a 34-year-old's body…
We talked a little bit about investment horizon, risk versus reward, and expected or "accepted" return in the market, and by that I mean basically what we would "settle for" as a return.
I told him how I'd lost all my money in the stock market when I was 19-years-old, and how it's changed my investment outlook and made me more conservative.
He told me he would settle for a steady 1.5% increase in the value of his real estate purchase, every year, for the next ten years (relative to inflation, but that's a bit too in depth).
So when we began talking about Regent Park, I basically told him it's a classic risk-reward scenario.
When I mustered up the guts to call my Dad's stock broker in 1999 to tell him I wanted to invest, I remember the first thing he said was, "I can make you about 10-15% on Imperial Oil."
I replied, "Per month?"
I wanted to be a shooter, and the thought of only making 10-15% per year on my money was laughable.
So instead, I lost it all…
If I had it to do over, I'd have taken that 10% in a heartbeat.  I would have left the technology, biotech, and gold stocks to the insiders and institutions, and settled for a conservative return.
So in my Monday evening discussion with this young man, I told him these stories…..and more.
I likened the potential for investment in a Regent Park condo to the more volatile and risky stocks that can make people a lot of money, or fail to return anything close to the market average.
Right now, in Regent Park, properties are selling for about a 30% discount from the market average in the downtown core.
It's tough to find a "deal" in Toronto, but if the market for properties in Regent Park catches up to the overall market average over the next few years, then a condo-buyer today could significantly outperform the market.
It's a risk, given that a more "safe" or conservative investment might be the St. Lawrence Market, or King West, but it could be a reward for those willing to take on said risk.
I'll give you an example.
Right now at 25 Cole Street, there is a 710 square foot, 1-bed-plus-den, with parking and locker, listed for $329,900.
Now perhaps you're not all A+ real estate students here, and you don't immediately know what those numbers mean.
But to put it in perspective, if somebody asked me randomly, "What's the going rate today for a 710 square foot, 1-bed-plus-den, with parking and locker, in the downtown core," I'd probably tell them it's around $399,900.
That's based on a "gut feeling," but if you want to put a number to it, consider that the average price per square foot downtown is around $600, so a 710 square foot condo might average $426,000.
Maybe more, maybe less.
In some buildings in King West, you might pay $499,900 for that same unit.
But given that this unit in Regent Park has been on the market for two weeks, and the listing agent has done a terrible job with the listing (no photos, for starters…), maybe this thing could be had for $315,000.
Really?
Three-hundred-fifteen-thousand?
For 710 square feet with parking?
Yes, it's in Regent Park.  I think we've covered that.
But people look at the location as a drawback, given the neighbourhood, and the name "Regent Park," but consider how close it is to the centre of the city, and suddenly location could be a pro, not a con.
Let's just talk about proximity to Yonge Street.  Here's a map that shows Yonge-to-Parliament (where the Cole Street condominiums are, just north of Dundas), and the same distance going west:
Walking west from Yonge Street, you wouldn't even hit Spadina before you've gone the same distance as Yonge Street to Regent Park.
Some of the most sought after condos in the downtown core are in King West at Bathurst, and that would take this map a lot further west.
We hear "location, location, location" so often that it almost becomes redundant, but at some point we have to consider Regent Park's location an asset.
If somebody was looking at a map of Toronto from afar, and they saw a 2-bed, 2-bath condo priced at $399,900 in Regent Park, and a similar-sized unit priced at $699,900 in King West, they'd undoubtedly wonder what they're missing.
I'm not going to pretend that every major metropolitan area doesn't have its hot spots, and its rough patches.  But the West Village in Manhattan is priced essentially the same as the East Village on the other side of 4th Avenue, as both are equidistant to the financial district, so is it completely unreasonable to assume that a price gap in two geographically similar neighbourhoods in Toronto could shrink over the coming years?

Believe me, I'm not suggesting that Regent Park is going to overtake King West, nor am I even suggesting that these two areas will EVER draw even in price.
But I am suggesting that there's a chance that price gap could shrink as prices in the downtown core continue to rise, and more and more buyers see Regent Park as too good a deal to turn down.
It's a classic risk-reward proposition.
A buyer in 2015 could be significantly rewarded if the market catches up in Regent Park.
Or, that buyer could look back in 2020, and ask, "What the hell was I thinking?"
I was very skeptical when the idea of "revitalizing" Regent Park first came about a decade ago.  When the first batch of condos were built, I mocked them.  I said, "Yes, but you're still in Regent Park."
Today, if that square block between Parliament, Dundas, River, and Gerrard was known as "Dudley Square" or "Roxbury," through some magical transformation where people suddenly have the words "Regent" and "Park" wiped from their memories, I'm convinced that attitudes would be different.
My attitude has changed, that's for sure.
Regent Park is far from number-one on my list, but in the past year, I've started sending clients listings in the neighbourhood.
Sure, these are clients on a serious budget, or those looking for value, or both.  And to be fair, I'm not a fan of CityPlace, but I might send a client a property or two in that neighbourhood as well, except that the prices are significantly higher than Regent Park, and some of the buildings (I'm sure Google will tell you…) have serious structural problems, lawsuits, and red flags that would prohibit me from selling there.
I guess the point I'm trying to make in today's blog is this: every buyer reaches a crossroads where they have to compare incredible value to a more sought-after neighbourhood and all the advantages that come with it, and as the "deal" becomes more and more attractive, every buyer has a jumping off point.
What's your jumping off point?
At what price do you decide to revisit Regent Park?
More:
See which stocks are being affected by Social Media