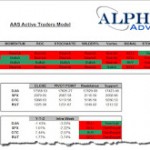 $SPY, $STUDY Blowout earnings from AMZN set the stock market up for a nice bounce on Friday morning, however, with energy, materials and high-beta biotech stocks gapping down at the open, the overall upside momentum was short-lived. The Flash PMI out of China, which showed a contraction in manufacturing activities, had many investors worried. A sizable miss in June new home sales didn't help. Stocks slid all the way into the close with all ten major sectors falling underwater. VIX jumped 8.7% to 13.74.
Unless you are in a few technology names Friday was just an overall ugly session. The number of new 52-week lows on both the NYSE and the NASDAQ surged to the highest level since last October. Although part of the market, such as large cap internet and bank stocks, is doing well, the deteriorating internals suggest that the market could be in for more rout.
The technical condition of the market was mixed last week as reflected in the Asset Allocation recommendation below, this indicator has declined to 25% Long – 75% Cash, down from the prior week. The Major Market Model also weakened over the week with 3 of the four major's now carrying Bearish – Sell indicators. Internal breadth numbers deteriorated as both the NYSE and NASDAQ Advance/Decline lines continued to make lower highs and lower lows and there was additional expansion in new 52-week lows. Both indexes put up triple-digit new 52-week lows each day of the week.
Every sector finished the week in the red with the exception of the Consumer Discretionary Sector (XLY) which finished marginally higher. The Materials Sector (XLB), Energy Sector (XLE) and Industrial Sector (XLI) were all hit hard. All three made a new 52-week low and the Energy Sector has been down 11 of the last 12 weeks. Capital preservation should be the priority in the very near term as we see how the current down leg plays out. With that said, the long term trend is still up.
FactSet StreetAccountSummary – US Weekly Recap: US Weekly Recap: Dow (2.86%), S&P (2.21%),Nasdaq (2.33%), Russell 2000 (3.24%)


Link:
See which stocks are being affected by Social Media