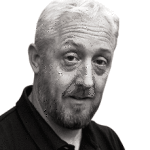 There has been a lot of talk lately that 'Big Data' is just BS. Peter Houston looks beyond the hype to reveal what companies should be focusing on.
Do you remember the first time you heard the phrase 'Big Data'? Chances are, unless data's what you do, it was last year. Big Data became big when the World Economic Forum in Davos discussed it and the US government spent $200 million on Big Data research projects.
Through the first couple of months of 2013, 'Big Data' was the marketing meme du jour, but as we hurtle ever closer to 2014, the promised miracle seems a little less miraculous.
I couldn't make a marketing strategies conference in London this week, but following the event hashtag between meetings I caught sight of a "Big Data is Bullshit" tweet. That's not the first time I've seen that phrase: Harper Reed, CTO for Barrack Obama's 2012 re-election campaign said exactly that at higher educaton conference in October. He explained, "The 'Big' there is purely marketing. This is all fear … This is about you buying big expensive servers and whatnot."
Compare that with Jon Kleinberg, a computer scientist at Cornell, reported in the New York Times just over a year earlier saying, "Big Data is a tagline for a process that has the potential to transform everything."
Will it change everything or is it BS? As an easily confused friend of mine often says, it makes you think you don't know what to think.
Luckily, as a marketing professional right in the middle of planning your strategy for 2014 and beyond, there are a few points of clarity emerging, most advising a focus on the 'Data' half of the proposition, few paying much attention to the 'Big' aspect.
I wrote back in September that the early signs of a 'Big Data' backlash stemmed from the mismatch of expectations and delivery — a reality check on the idea that the science of number-crunching was somehow going to solve all the problems of business and society.
In a mid-November blog post, Pharmaphorum's Paul Tunnah asked if pharma wants Big Data or good data? Brilliant question, and there's clearly only one way to answer it. Paul expects Big Data to become an integral part of strategic and tactical decision-making for pharma, but warns against the dangers of pursuing quantity over quality.
Paul was musing on newly released Cegedim 'Key Perspectives on Customer Databases' research which asked senior executives how pharma is using data and what value it brings. Uses centre on client targeting, territory management, investment allocation and market research, and the survey shows data accuracy was by far the lead factor in determining whether data is useful. Completeness and coverage – 'Big' stuff – were rated much less important. "It seems Big Data is no substitute for good data," concludes Paul.
Interestingly, the survey shows phone verification by data experts as the data validation methodology most trusted by executives working in pharma. Phone verification? 'Big Data' doesn't use the phone. 'Big Data' measures itself in terabytes and petabytes not caller minutes.
The point here is the data not the scope. In some spaces, more data matters. Google analysed billions of searches to improve its spellchecker function. "… just one of hundreds or perhaps thousands of innovations driven by the sheer mass of data that we're capable of storing, wrangling, and manipulating," said Gary Marcus in 'Steamrolled by Big Data' in the New Yorker.
Pharma may eventually get to Google's level of data processing, as social media monitoring and reporting from wearable medical devices start to kick in, but those are works in progress. Right now, as Paul says, peer-reviewed, evidence-based survey data of quality is more important.
Don't get the idea from any of this that 'Big Data' is going away.
Writing on Forbes in September, Big Data blogger Gil Press asked 'What Big Data backlash?'. He cited a survey of Fortune 1000 C-Suite executives by NewVantage Partners showing 68 percent of respondents reporting big data investments of $1 million this year, up from just over one third last year. By 2016, 88 percent expect to be spending over $1 million on Big Data. The burning issue for these executives is analytics; 70 percent highlighted the need to "accelerate analytical processes" and develop "more sophisticated analytics".
Reading past the 'Bullshit' headlines, the 'Big Data' backlash isn't against data. It's against the hype, a welcome a reminder that there are no silver bullets. Data quality matters more than quantity, and proper analytics matter more than almost anything else.
As you wrap up your plan for next year and beyond, thinking about how to use data for targeting, territory management, investment and market research, also bear in mind that big, small, long, short, data is useless if you don't act upon it.
More:
Seeing Beyond the Big Data Backlash