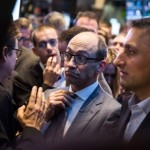 The hotly anticipated stock-market debut of Twitter exceeded expectations on Thursday when a stampede for shares sent the company's value to more than $24bn – an extraordinary debut for a company that has never made a profit, and whose launch had already been the subject of considerable hype.
The company set a share price of $26 on Tuesday but fierce bidding for the limited number of shares available drove that price up to over $45 as the stock market opened, a rise of 73%. In early trading the price at one point topped $50. It closed the day at $44.90.
Twitter's float price was considered restrained, and analysts had been forecasting a surge on the first day of trading, but the scale of the demand was unexpected. Thirteen years since the dotcom crash, there were warnings of a new technology bubble.
"I anticipated a very strong open, but when you start to approach these levels, this is absolute froth," said Jeffrey Sica, president of Sica Wealth Management in New Jersey. "There is nothing supporting this range. I think this is just way, way above what realistically we should be considering."
The float instantly made billionaires of co-founders Ev Williams and Jack Dorsey. Williams owns 59.6m shares, valued at more than $2.69bn. Dorsey holds another 23.4m shares, valued at over $1bn. But the biggest winner was Twitter's largest shareholder, Rizvi Traverse. The private equity group run by reclusive New Yorker Suhail Rizvi holds nearly $4bn worth of the stock, and its Saudi client Prince Alwaleed bin Talal will also share in the bonanza, having taken an early bet on Twitter.
Now seven years old, Twitter claims more than 200m users worldwide and has 53m active users in the US, where it makes most of its advertising revenues. But it is far from ubiquitous. Facebook, the last big tech IPO, has about four times as many active users in the US. Neither has it made a profit: in the first nine months of this year, Twitter posted a loss of $134m. Facebook's profits grew to more than $1bn before it went public.
Twitter CEO Dick Costolo. Photograph: Andrew Burton/Getty Images
Twitter's market valuation by the close on Thursday was 24 times its projected earnings of $1bn next year. That same multiple applied to Apple would represent the entire annual economic output of Germany, said Tomas Freyman, director of valuations at BDO. "This is a company with $600m of revenues and no profits," Freyman said, adding that the company would have to "put up some serious numbers soon" to justify the price.
Some analysts questioned whether Twitter's advertising targets were achievable. "Twitter's entire business model is based on advertising – not on the ads it has, but on the ads it hopes one day it might get," said Larry Chiagouris, professor of marketing at Pace University in New York.
Nevertheless, Twitter is big on mobile, the fastest growing area for advertisers and one where others, including Facebook until recently, have struggled. In September, the company bought MoPub, which manages online ad sales, for a reported $350m. The company will allow Twitter to sell its expertise in mobile advertising to other parties and its purchase was seen by analysts as a critical move in growing revenues.
Sam Hamadeh, founder of analyst Privco, said the rise in Twitter's stock was "rich, no doubt". But he projected that it would hold "as the company's revenue grows into that valuation". Hamadeh said Twitter was likely to target private companies with its new funds.
"Twitter will use its rich stock to buy companies straightaway, adding to its revenues and further justifying its high valuation," he said.
The contrast with Facebook's troubled launch last year, when shares plunged to half their opening value, was marked. Twitter's debut was smooth and crowd-pleasing, with Star Trek actor Patrick Stewart and nine-year-old anti-slavery fundraiser Vivienne Harr ringing the opening bell at the New York stock exchange.
Whereas Facebook's Mark Zuckerberg stayed holed up in his California headquarters, declining to comment as technical glitches delayed trading on the Nasdaq exchange, Twitter's chief executive Dick Costolo conducted live interviews from the floor of the NYSE.
Costolo, whose slice of Twitter is now worth more than $370m, vowed to "reach every person on the planet" and described his service as an "indispensable companion to life in the moment". He said much of the $1.82bn that Twitter raised on Thursday will be spent hiring teams outside the US to create more international content.
Speaking on Wednesday, Mary Jo White, the chairwoman of the US Securities and Exchange Commission, questioned the wisdom of investing purely on the grounds of huge numbers of users.
"It can be hard not to think that these big numbers will inevitably translate into big profits for the company. But the connection may not necessarily be there," she said in a speech.
Patrick Stewart rings the opening bell. Photograph: Handout/Reuters
Twitter's share price was increased three times before the Thursday's launch. The company had originally estimated that it would open in a range between $17 and $20 a share, but on Monday that was increased to between $23 and $25. The price was further increased to $26 on Wednesday. But huge demand for the 70m shares put on sale by the company sent the price soaring.
While most trading is now digital, the procedure for setting the opening price is low-tech. The hour-long process, which began after the opening bell at 9.30am, was managed by Twitter's British adviser, Barclays. As traders haggled on the floor of the New York Stock Exchange, Barclays called out the buy-and-sell offers.
With Twitter shares reportedly 30 times oversubscribed, by the time the haggling was over, they had been marked up to $45.10.
Pundits are now forecasting a climbdown from the dizzying heights of the first day's trading.
Pivotal Research Group analyst Brian Wieser downgraded Twitter to a sell rating with a $30 price target. "With a price that pushes into the high 30s and beyond, Twitter is simply too expensive," he wrote. 
Read this article:  
Share stampede sends Twitter's value to $24bn on stock market debut
See which stocks are being affected by Social Media