Snapchat's Stock Price, Here Today Gone Tomorrow?
Friday, March 3rd, 2017
As with any IPO, excitement is the key and Snapchat (SNAP) has had plenty of it. Starting out with a simple concept of video messages between teens that disappear and then growing into a publicly traded company, with an uncertainty of how to generate substantial revenue, one has to ask the $3.4 Billion dollar question, will snapchats stock stock price follow suit of its messages and simply disappear?
Our target price was $28, which SNAP hit and then pulled back from. We see it potentially headed down to $20 over the next few months, and here's why.
When you think about it, institutions and funds had the privilege to buy in at $17 per share. Now, just a short time later, they're sitting on a 58% return at a share price of $27 a piece. How long until they decide to lock in some gains?
Next we'll look at the Price-to-Sales chart with comparison to others in the same space.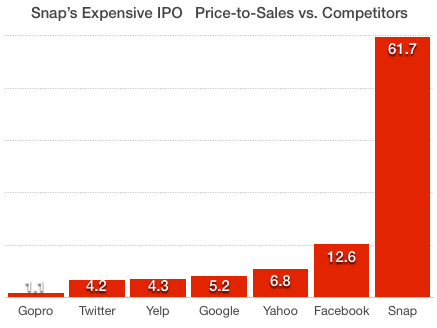 source: Bloomberg, SEC Fillings
Hmmm, so are we getting a good deal on a stock or buying a high priced Louis Vuitton bag?
Let's take a quick look at history.
When Twitter (TWTR) hit the market, it opened around $41 and some change on the first day. Twitter quickly shot up to $69 a share, which was a 60% increase.
Starting to look familiar?
Then, within two months, it lost 23% of it's value and today its at $15 and some change. So a big fall from grace being that it lost 77% from it's all time high.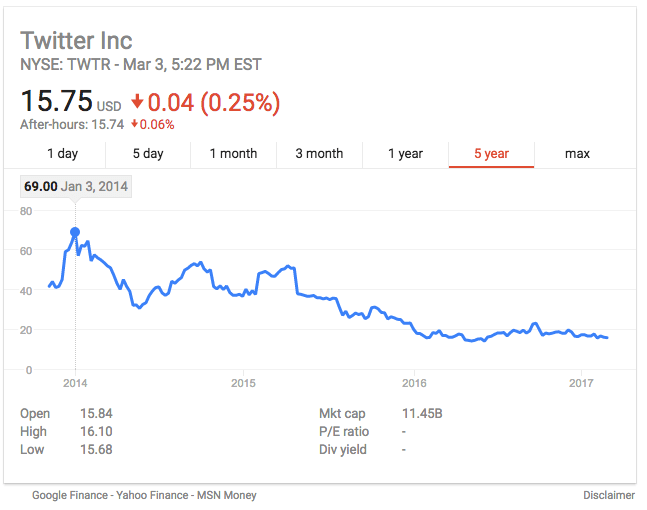 The big difference between TWTR and SNAP is that Twitter isn't just lifestyle, it's important news, actually breaking news which supports so many other purposes and companies. SNAP on the other hand is a way to communicate and then have that communication disappear. The common draw to snapchat is that users feel they can communicate without any foreseeable repercussions. However, think about past data breaches and potential future ones?
When a companies core value is based on privacy, it really only takes a few bad issues to watch customers generate a mass exit.
Now we'll look at the big Instagram "face slap" to Snapchat. Specifically we'll look at Q3 to Q4 changes over the past few years. When you think about it, Q3 & Q4 are basically holiday times which fall into lifestyle. Lot's of free time, probably lots of booze, and endless reasons to be with others digitally while you're stuck at the family grind physically.
source: Bloomberg, SEC Fillings
Lets dive into that Q3 to Q4 we're talking about.
So in 2014, Q3 had 8.7% growth to Q4's 14.5% growth. Nice Change.
Then in 2015 Q3 had 9.3% growth to Q4's 13.8% growth. Once again, nice
For 2016 Q3 had 7% growth to Q4's 3.2% reduction. (Insert the Record Scratch Sound) So What happened?
In Q3 of 2016, the mighty Instagram launched their version of "stories" and reduced Snapchats growth by almost half.
This isn't good! Why?
Well because if a product is based more on "features" rather than a "product with features", then a companies competitive edge can quickly be cannibalized.
Update: Monday, March 6th, 2017, 3:30pmEST
When looking at our Social Analytics Dashboard, which tells us exactly what investors are thinking by way of sentiment analysis, we pause for a moment.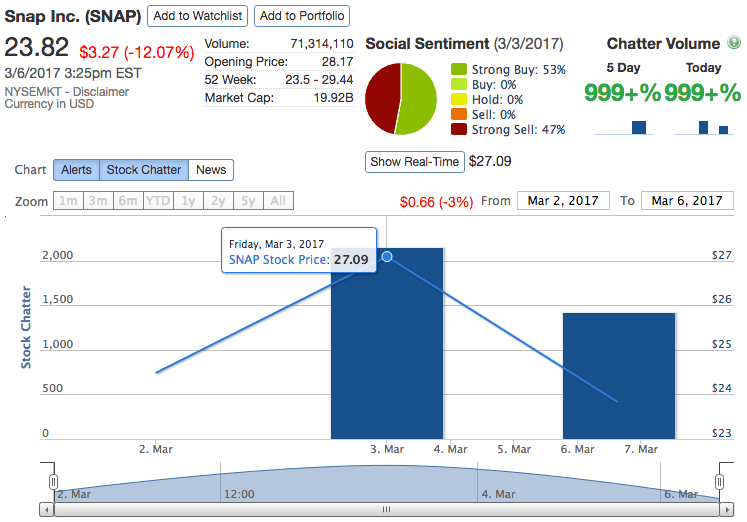 source: HedgeChatter.com
Generally, on high moving stocks, we'll see Strong Buy at 80%+. However, we're only seeing
Strong Buy at a mere 53%
on March 3rd, 2017. Based on the Sentiment data, It appears that SNAP will loose momentum and the price will decline on Monday March 6th, 2017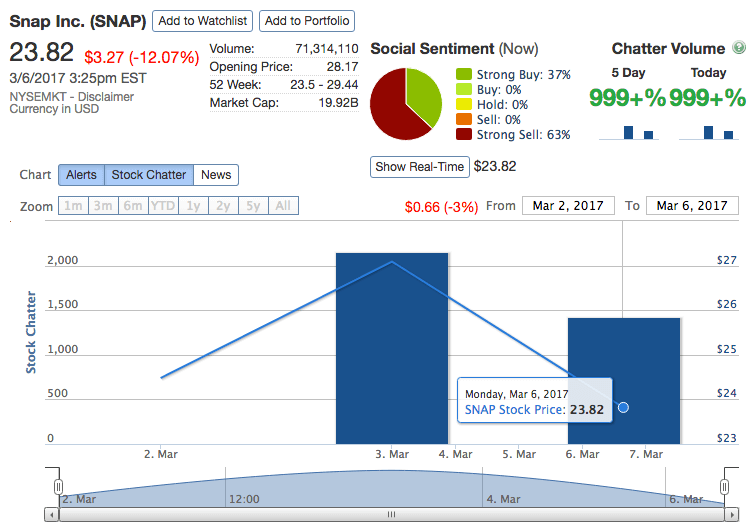 source: HedgeChatter.com
Sure enough, today, March 6th, 2017 we're seeing
Strong BUY dropping to 37%
and at the same time we see
Strong SELL increasing to 63%
and SNAP closed down today by over 12%.
It appears the excitement buzz may already be wearing off. Unless SNAP comes out with some super new wiz bang feature, we see the price continuing downward to $20 as funds and institutions lock in their gains.
If this happens many investors may find themselves thinking, "Oh snap", and wishing they had taken a quick exit a bit earlier.
Update: Monday, March 6th, 2017, 11:35pm
1) Snap STRONG SELL Sentiment has just hit 66% and a Downside Risk alert was generated.
2) Snap just became the #1 leader in Top Negative Sentiment....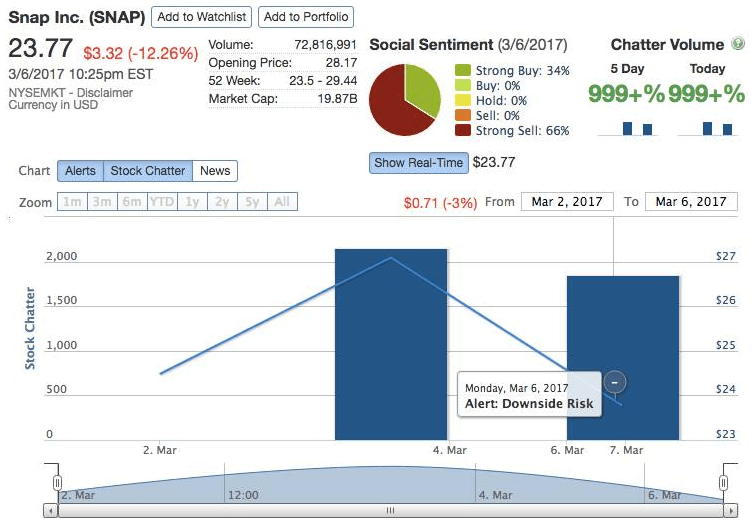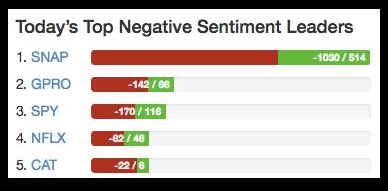 If you're long SNAP you may want to take some time to really think about your position.
Update: Tuesday, March 7th, 2017, 6:19pmEST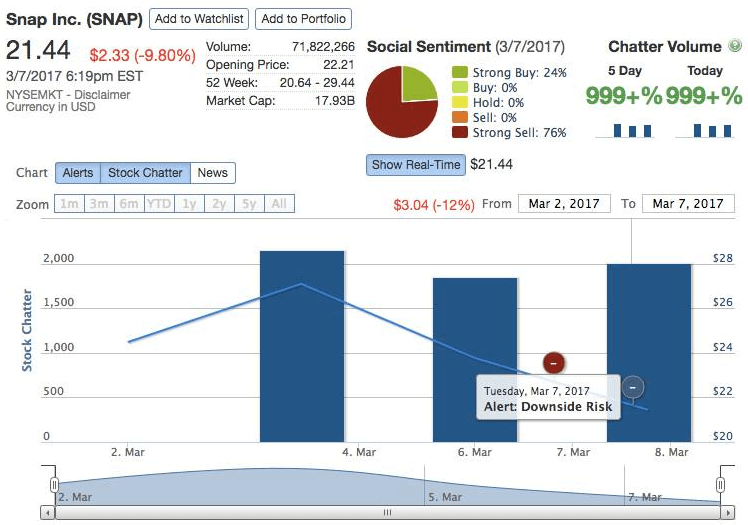 Looks like the Market participants are still very negative about SNAP.
Strong Sell 76%
Unless Sentiment changes tonight or in the morning, there could be more downward slide.
Update: Tuesday, March 7th, 2017, 11:01pmEST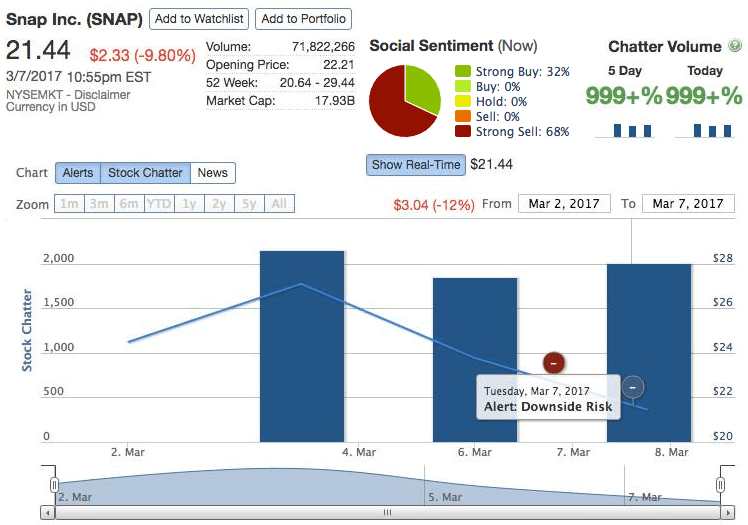 Well this is interesting!! Earlier today STRONG SELL Sentiment was at 76%. Now, this evening, STRONG SELL Sentiment has dropped to 68%.
Guess what will happen tomorrow on Wed, March 8th? SNAP will pop up at the open. STRONG SELL is still pretty significant so more than likely it will probably only hit $22 maybe $23 and then rest around $22 by EOD.
Update: Wednesday , March 8th, 2017, 2:09pmEST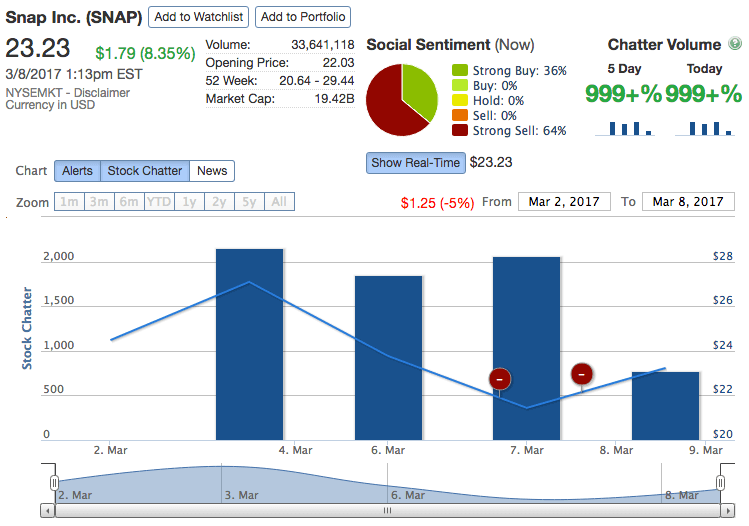 With just a few hours before closing we find that last nights prediction was again on the money.
STRONG SELL has fallen 2 more points down to 66% and the price has gone up to $23.23 but is now backing off into the $22 range.
About the Author:
James Ross is the CEO and Co-Found of HedgeChatter, a social analytics platform which analyzes social chatter to find trade ideas before the news.