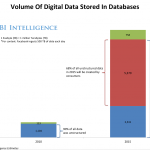 BI Intelligence
The world's largest social networks are storing massive amounts of never-before-analyzed data that could reveal lucrative information about consumers — from how people are influenced, to what triggers an intent to purchase.
However, as much as 90% of that data is "unstructured," meaning it's spontaneously generated and not easily captured and classified.
But machine learning or artificial intelligence (AI) — the study of how computer systems can be programmed to exhibit problem solving and decision-making capabilities — are helping marketers and advertisers glean insights from this vast ocean of unstructured consumer data.
Advances in "deep learning," cutting-edge AI research that attempts to program machines to perform high-level thought and abstractions, are allowing marketers to extract information from the billions of photos, videos, and messages uploaded and shared on social networks each day.
In a new report from BI Intelligence, we dive into innovations in interrelated fields like artificial intelligence and image recognition, which are quickly changing the way social big data is mined for insights and used in emerging marketing applications. These include audience clustering and predictive targeting.
Access The Full Report By Signing Up For A Free Trial Today >>
Here are some of the key takeaways from the report:
Seventy-one percent of chief marketing officers around the globe feel their organization is unprepared to deal with the explosion of big data over the next few years, according to an IBM survey. They cited it as their top challenge.
Targeted and personalized marketing using social data is expected to be the business area that benefits the most from mining big data — 61% of data professionals say big data will overhaul the practice for the better, according to Booz & Company.
Facebook ingests approximately 500 times more data each day than the New York Stock Exchange (NYSE). Twitter is storing at least 12 times more data each day than the NYSE.
By deciphering image and video-based data, marketers will be more effective and comprehensive in their "social listening" efforts. Large companies spend a great deal of money monitoring people's attitudes toward a specific brands or product, and despite all the photo-and video-sharing happening on social media, these mediums were formerly mostly invisible to their analytics tools.
In full, the report:
Provides an easy-to-understand explanation of artificial intelligence and the various subsets of the field that are applicable to social media data.
Includes interviews with artificial intelligence experts that reveal how advanced machine learning systems are today, and how different social networks are leveraging this powerful technology.
Unpacks which types of social media data will be filtered through machine learning and how difficult it will be to process the different kinds of data.
Gives examples of how artificial intelligence will improve social media ROI and revolutionize digital marketing and advertising.

Visit site: 
Social Media's Big Data Future — From Deep Learning To …