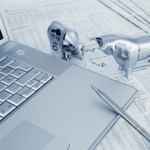 With the Dow Jones Industrial Average hitting an all-time high on Monday and with the S&P 500 nearly hitting a new all-time high, it seems as if U.S. stocks are the place to be. Despite the turmoil in the Ukraine, weakening economic numbers coming out of China, and weak retail sales from many U.S. companies over the past few months, stocks are powering higher, and that's a good sign — right? After all, if stocks can climb in this environment, then what happens when these problems start to clear up?
But before getting excited and jumping into stocks, keep in mind that the best time to buy stocks is when they are down, not up. When everybody was afraid of owning stocks in 2008-2009, the proverbial "smart money" was buying. Similarly, when things looked great in 2007, the proverbial "smart money" was selling. Inevitably, these investors did not time the market perfectly. You could have bought in December 2008 and seen your positions fall another 10-20 percent before the upswing occurred, but three years later, you were extremely happy.
In today's market, I think that despite the strong performance of the major stock indexes that in many cases, the best approach is to either sell or wait to buy. Investors who look at the stocks that are driving the market higher might be a little concerned. For instance, if we look at the Dow, the stocks that are leading the way higher this year aren't economically sensitive stocks or growth stocks such as JP Morgan (NYSE:JPM) or Visa (NYSE:V), but rather stocks such as Johnson & Johnson (NYSE:JNJ) and McDonald's (NYSE:MCD).
Read this article:
Stock Market: Be Cautious at These All-Time Highs
See which stocks are being affected by Social Media