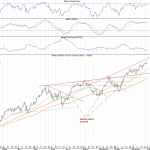 ,
|
| December 2, 2013 3:42 pm
---
The main U.S. stock market indexes were mixed on a shortened Friday's trading session.
Investors hesitated following recent move up. The S&P 500(NYSEARCA:SPY) reached yet another new intraday all-time high at 1,813.55, before closing down 0.1%. The nearest important support is at around the psychological 1,800. So, the market practically extends its short-term consolidation, moving sideways above the level of 1,800. This may lead to a downward correction. The next support is at around 1,770-1,775, marked by the late October, early November consolidation and the recent local low, as we can see on the daily chart:
Expectations before the opening of today's session are virtually flat, as the European stock market indexes have lost between 0.2% and 0.6% so far. Investors will now wait for some economic data announcements: ISM Index and Construction Spending at 10:00 a.m. The S&P 500 futures contract (CFD) extends its fluctuations in a relatively narrow range. The resistance remains at around 1,810-1,815, and the nearest support is at 1,800. There are no confirmed trend reversal signals so far, as the 15-minute chart shows:
Pages: Next
.
Related Posts
Indexes retreat as market sentiment worsensStock Trading Alert: Stocks in a correction modeBroad market indexes fluctuate as investors take some profits
Disclaimer: The content included herein is for educational and informational purposes only, and readers agree to Wall Street Sector Selector's Disclaimer, Terms of Use, and Privacy Policy before accessing or using this or any other publication by Wall Street Sector Selector or Ridgeline Media Group, LLC.
Go to Wall Street Sector Selector Home
Continued: 
Stock Trading Alert: Stocks extend short-term consolidation