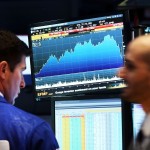 (Spencer Platt/Getty Images)
What a difference a week makes. In the throes of the worst of Wall Street's turbulence, news of an Ebola diagnosis in New York City might have been enough to send stocks right off the rails and shares of biotech and biohazard protection stocks soaring.
That wasn't the case Friday though, as the market took news of a physician — who was recently treating Ebola patients in Guinea — being diagnosed with the virus in stride. (See "Why You Won't Catch Ebola On The NYC Subway.") The major averages were posting modest gains to build on a big rally Thursday, with the Dow Jones industrial average, S&P 500 and Nasdaq each up about 0.2%.
More importantly, corners of the stock market that have reacted most violently to Ebola headlines were moving in the opposite direction of the fear trade.
Airlines were climbing, in a week where solid profits from the likes of American Airlines Group American Airlines Group and United Continental were outweighing the Ebola-related selling pressure on travel stocks. American and Delta Air Lines Delta Air Lines were each up about 2%, though United fell almost 1%. Southwest Airlines Southwest Airlines, which posted strong earnings of its own Thursday, posted a 1.1% gain. (See "Airlines Climb Through Ebola Headwind.")
On the other side of the ledger, stocks that have risen on Ebola fears were falling Friday. Haz-mat suit maker Lakeland Industries has been on a wild ride in October, rising more than 50% in a single session Oct. 9 and climbing almost 70% from the start of the month through Thursday. The stock gave back some of that advance Friday morning, falling 4.3%.
Meanwhile, the small biotech firms trying to pull together Ebola vaccines and treatments were scuffling, with Tekmira Pharmaceuticals Tekmira Pharmaceuticals, Chimerix and Inovio Pharmaceuticals Inovio Pharmaceuticals all starting in the red Friday.
Link to original:
Stocks Not Shocked By NYC Ebola Case