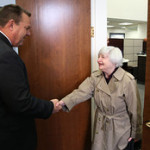 By Ben Levisohn
After a tentative response to Janet Yellen's opening comments to the Senate, stocks have moved higher, helped by surging homebuilders PulteHome (PHM) and  Lennar (LEN).
Getty Images
The S&P 500 has gained 0.3%, while the Dow Jones Industrial Average has risen 0.2%. The S&P 500 is being led higher by oil refiners–Valero Energy has gained 4.5% to $43.10 and Marathon Petroleum (MPC) has risen 4.3% to $78.32–and by homebuilders–PulteHome has jumped 3.6% to $17.65 and Lennar is up 3.2% at $34.38. Whirlpool (WHR) rounds out the top-five S&P 500 performers with a 3.6% gain to $149.41.
It's not hard to see why home builders are jumping. Yellen has defended quantitative easing, and one of the ways she said it has benefited the economy is through lower mortgage rates that have helped the housing market recover.
Mizuho's Steven Ricchiuto says Yellen should be careful what she wishes for:
Vice Chairman Yellen may wish she had removed her name from the list of possible Bernanke replacements before the nomination hearings get underway. Not only did the administration vet every other possible candidate before nominating her for Chairman, there were also credible leaks that the Obama Administration wanted monetary policy to strike out in a new direction. This implies that as she tries to establish herself at the head of an already fractious policy making committee, Chairman Yellen will have to expect that additional nominees to the Board will subscribe to very different views from hers on the role of monetary policy. Specifically, Chairman Yellen will have to find a way to exit QE without producing a back-up in long-term rates. That could endanger the shallow recovery which has been in place since the middle of 2009. The latest attempt to taper QE failed as a result of a spike in long-term rates. The push from 1.5% to 3%+ 10-year Treasury rates caused the anticipated acceleration in the economy to fizzle. QE and the resulting increase in the Fed's balance sheet is the biggest concern of the more monetarist leaning members of the FOMC. Unfortunately, the way policy has been handled through the crisis has left the economy dependent on financial engineering. Low long-term rates have been used to help speed the restructuring process. However, there is still a ways to go before the restructuring of the household sector and banking industry's balance sheets are complete. As a result, we look for the Yellen Fed to experiment with targeting long-term rates. This will keep providing needed stimulus and also appease the hawks on the Committee
Jefferies' Ward McCarthy says Yellen is not the dove many portray her as:
As expected, Janet Yellen has been a defender of an accommodative monetary policy, and sounded remarkably like Ben Bernanke on key current issues. In sum, being Fed Chairman is not going to change her, she will continue to be Janet Yellen. Over her career, she has been a pragmatist, which means that she will remain committed to promoting growth in the current economic environment. At some point in the future –probably distant future– her pragmatism will shift her focus away from growth and toward limiting inflation. She probably wishes that day would come sooner than it now appears likely to be the case.
The one certainty: Don't expect the debate to end anytime soon.
Taken from – 
Stocks Take Comfort in Yellen, Trade New Highs – Stocks To Watch …
See which stocks are being affected by Social Media