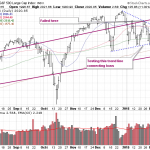 VIDEO UPDATE: 30m session looking at the long term market charts, top 5 movers on the day, some education, and a kickoff with a personal story of how a stop loss order I had on AMZN bit me for $2,000+, ouch.
Indexes finished off a volatile session with strong gains in the closing hour as the S&P 500 closed up 1.30% and the NASDAQ 0.89%.  There were late afternoon reports that Greece's financial minister revealed a plan to end confrontation with its creditors.  Economic news was however not positive – we have to continue to watch economic news now the next 3 months very closely because the bond market is sniffing out future weakness – and usually the bond market is not wrong.
The ISM manufacturing index hit 53.5 in January 2015, below expectations of 54.5, the weakest reading since January last year.  Any reading over 50 marks expansion.
China didn't have great news either:
Manufacturing activity in China is still contracting. China's final HSBC Purchasing Managers' Index (PMI) fell to 49.7 in January, a touch below its 49.8 flash reading. The 50-point mark separates expansion from contraction.
The S&P 500 nearly fell to the 50 day moving average while the NASDAQ bounced off this lower trend line we have build connecting recent lows.  We are still in low man's land on both indexes for now.
Friday we wrote this about oil:
Oil finally put in a POTENTIAL reversal day.  West crude has not been over its 20 day moving average since last September.  That's amazing.  Today it broke over.  Now we need to see some confirmation next week and if it happens we might have put in a bottom today.  If we just see oil reverse down then it's just a false alarm.
Today was a great follow through day so it is very possible Friday was the low – for now at least.
Maybe a potential bullish "double bottom" in one of the major oil ETFs was put in as well.
Most of the big winners today were energy related stocks with bad charts.  It is difficult to find an individual energy stock doing well chartwise but Concho Resources (CXO) is looking a lot better than most.
Here is a medium sized biotech company that has gone bonkers of late for your amusement – Opko Health (OPK).  It is not even that small; this is a $5B market cap company.
Here are some key earning reports on tap for Tuesday:  BP, UPS, Aetna, AutoNation, Disney, Gilead Sciences, Aflac, Chipotle Mexican Grill.  We'll look at UPS, Gilead, and Chipotle in depth tomorrow.
Original article: 
STTG Market Recap Feb 2, 2015 – Stock Trading To Go