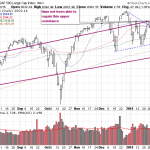 VIDEO UPDATE: Watch tonight's Market Report on Ticker.tv
Wednesday's action was not very encouraging.  Markets gapped up at the open and stayed in a small range until 2 PM, and then a heavy bout of selling kicked in.  Again in bull markets we don't want to see up opens and down closes.  It looked like the market had wanted to turn the corner late last week but action this week has been troubling.  The S&P 500 fell 1.35% and the NASDAQ 0.93%.  The action in the NASDAQ is particularly bad when you consider Apple had a huge day and is a massive portion of the NASDAQ index.  The Federal Reserve had its meeting announcement today and as expected little new was said:
The Federal Open Market Committee stuck to its vow to be "patient" on hiking interest rates and raised its view of the economy and labor market, even as the central bank said it anticipates inflation to fall further in the near term.
The NASDAQ gave us a false breakout Monday and it's been very ugly since.  You can see today's intraday high was exactly at our resistance area.  The S&P 500 never broke out, and has been rejected severely.
The NYSE McClellan Oscillator has now turned negative.
The action in the bond market – something we have been highlighting for months – was horrid today.  The 10 year Treasury yield fell back to the low 1.7%s range.  This is not a market forecasting good things in the economic future.
The volatility index took a serious turn upward.
Oil continues to act badly, it threatens to break recent lows – if that happens a new leg down can occur.  U.S. data showed oil inventories rose to the highest level in records going back to 1982, stoking concern over a supply glut.
Facebook (FB) was positive on the day but turned negative in after hours after reporting earnings.
Facebook's quarterly results topped analysts' expectations as mobile ad revenue and daily video views rose significant  The company posted fourth-quarter earnings of 54 cents per share, up from 31 cents a share in the year-earlier period. Revenue increased to $3.85 billion from $2.59 billion a year ago.  Analysts had expected the company to report earnings of 49 cents a share on $3.77 billion in revenue, according to a consensus estimate from Thomson Reuters.  The social media giant said advertising revenue jumped 53, year-over-year, percent to $3.59 billion. Mobile ad accounted for about 69 percent of overall advertising revenue, compared to 53 percent last year.
Boeing (BA) was one of the day's big winners as the jet manufacturer posted quarterly profit that surpassed estimates.
Read more: 
STTG Market Recap Jan 28, 2015 – Stock Trading To Go