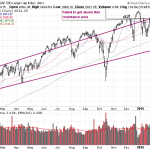 VIDEO UPDATE: 30m session looking at the long term market charts, top 5 movers on the day, three minutes speed run through Bespoke 50 list, viewer charts, and some ticker education.
Thursday was much the opposite of Wednesday; yesterday the market was up thru mid afternoon then suffered significant selling late.  Today indexes were down thru mid afternoon and then buyers showed up.  It's a very volatile market right now and not one that is very simple to deal with.  The S&P 500 gained 0.95% and the NASDAQ 0.98%.  Some dovish comments Janet Yellen made to lawmakers and oil not dropping yet again helped the mood some today.
Here are the longer term index charts.  Right now we are not in a place to make much hay – it looked like the NASDAQ at least was ready to begin breaking out north Monday but that was squashed quickly.  There are times the market is more simple and times more complex; right now it is complex.
The NYSE McClellan Oscillator is back positive – it's been volatile lately as well.  Hard to trust it right now until it stabilizes above or below the 0 line.
Silver was decimated after attempting to hold a rally.
McDonald's (MCD) rallied 5.1% Thursday, the most since 2008. The world's largest restaurant chain said it will replace Chief Executive Officer Don Thompson with one of his top lieutenants following the company's worst U.S. sales slump in more than a decade.  Obviously a struggling stock here.
Alibaba Group (BABA) fell after reporting revenue that missed estimates. There was no reason to be in this stock per the chart.
Alibaba (reported fiscal Q3 sales that rose 40% from the year-earlier quarter to $4.2 billion, boosted by mobile growth, but the analyst consensus estimate called for $4.45 billion. In a conference call with analysts, CFO Wei Wu called the miss "mainly a result of the greater percentage of total gross merchandise volume coming from mobile, which monetizes at a lower rate.  Alibaba processed $127 billion in gross merchandise volume across all its online commerce platforms, up 49% from the year-earlier quarter. Mobile accounted for 42% of total GMV, up from 36% in the prior quarter. But the company is not yet making as much money from those mobile transactions as analysts and investors would like.
There was a lot of action in the after hours today highlighted by a 13% spike by Amazon.com (AMZN).  This name had been struggling for months on end as you can see in the chart below.  So this is a case where the chart said stay away but finally people who have been hammered in the stock were rewarded.
Amazon.com beat Wall Street's earnings expectations by 28 cents as holiday sales climbed some 15 percent.  Amazon Prime, its annual membership program that costs $99 a year, was a bright spot for the e-commerce giant.  The company said worldwide Prime memberships grew 53 percent last year—up 50 percent in the U.S. and "even a bit faster" abroad.Amazon issued fourth-quarter earnings of 45 cents a share, down from 51 cents per share a year ago, but soaring past expectations of 17 cents.  Revenue rose 15 percent, year over year to $29.33 billion, but that trailed analysts' estimates of $29.67 billion. Excluding currency headwinds, the company said revenue increased 18 percent.
Google (GOOG) was up about 2% in after hours despite a revenue miss; this is the benefit of lowered expectations.  It is essentially back to where it closed Tuesday.  This was a tricky one as it looked like it was finally going to break out and then the market weakness swamped it.  We are seeing a lot of that.
Google Inc's revenue grew 15 percent in the fourth quarter but fell short of Wall Street's target on declining online ad prices and unfavourable foreign exchange rates.  Google's advertising revenue has come under pressure as more consumers access its online services on mobile devices such as smartphones and tablets, where ad rates are typically lower.
Visa (V) was up about 5% in after hours to $260ish.  Besides earnings it announced a 4:1 stock split.
View the original here:
STTG Market Recap Jan 29, 2015 – Stock Trading To Go