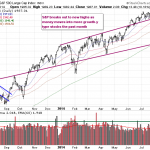 Indexes were up most of the session as a surge by Apple (AAPL) helped lift things; this is a massive component of the NASDAQ.   The S&P 500 gained 0.18% and the NASDAQ 0.40%.  It was a very busy day with a lot of blockbuster companies reporting so we'll focus on that today.
Here are the longer term charts for the 2 indexes; this is day 2 of the NASDAQ over the short term downtrend line we highlighted the past few days.  It is now back testing highs from early this month.
Biotech giant Gilead Sciences (GILD) had an excellent quarter but a muted reaction in the after hours session.  Some are worried about Sovaldi's prices which Congress has raised a fuss over ($1000 a day).  This drug has had a massive effect on Gilead's finances – see below!  The stock has also had a massive run since the spring swoon.
Gilead Sciences delivered quarterly earnings and revenue that topped analysts' expectations on Wednesday as sales of its new hepatitis C drug Sovaldi were stronger than expected.  Sovaldi generated $3.48 billion in revenue during the quarter, easily beating analystexpectations for $2.87 billion in sales.

Gilead said net income was $3.66 billion, or $2.20 a share, nearly quintuple the $772.6 million, or 46 cents a share, for the same period a year ago. Sales were $6.53 billion, more than double last year's $2.77 billion. Adjusted earnings of $2.36 a share blew past estimates of $1.79 a share, and sales beat earlier views of $5.85 billion by nearly 12%.
Another biotech giant Biogen Idec (BIIB) reported sharply higher-than-expected quarterly revenue on surging sales of its new treatment for multiple sclerosis and raised its full-year profit forecast. Its stock shot up 11.2 percent.
On the negative side was Boeing (BA) which also had a good quarter but some rising costs seem to pressure the stock.
Boeing fell after the U.S. aircraft maker reported a 52 percent jump in quarterly profit, but investors were spooked by rising costs in its military tanker program.
Below we'll show you 3 remaining charts using Marketsmith:
First we of course have Apple (AAPL)
Second we have Facebook (FB) which had a good regular session and an even better after hours (up nearly 6%) as the company has made a fantastic transition to mobile.
Facebook reported profit that more than doubled in its second quarter, and topped analysts' expectations. The company said earnings rose to $788 million, or 30 cents per share, from $331 million, or 13 cents per share, in the same quarter a year ago.  Earnings, adjusted for stock option expense, were 42 cents per share. The average estimate of analysts surveyed by Zacks Investment Research was for earnings of 33 cents per share.

The company said revenue climbed 61 percent to $2.91 billion from $1.81 billion in the same quarter a year ago, and beat Wall Street forecasts. Analysts expected $2.8 billion, according to Zacks.  Facebook reported Wednesday that mobile ads accounted for about 62% of its ad revenue in the second quarter, up a from just 41% a year prior.
Last we have a name in the robotic surgical space – Intuitive Surgical (ISRG); this one has a history of big moves post earnings (up AND down) and today was no different.
Excerpt from – 
STTG Market Recap July 23, 2014 – Stock Trading To Go