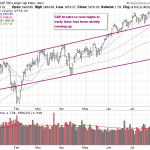 Indexes gapped down and stayed down all session as weakness in Amazon.com and Visa hurt morale a bit.  The S&P 500 fell 0.48% and the NASDAQ 0.50%.  Late in the day  Goldman Sachs released a note saying they are "neutral" on equities over three months as it sees a slide in bonds leading to a temporary selloff in stocks:
The firm said the near-term risk/reward profile for stocks was less attractive, even as it reiterated a "strong conviction" that stocks were the best-positioned class over the next year.  "We are concerned that a sell-off in government bonds will lead to a temporary sell-off in equities in line with what we saw last summer, though the magnitude is likely to be smaller as the need for bond yields to correct is lower than it was back then," Goldman said.
Economic news was mixed but the market didn't really react to it:
Non-defense capital goods orders excluding aircraft, a closely watched proxy for business spending plans, rebounded 1.4 percent after declining by a downwardly revised 1.2 percent the prior month, the Commerce Department said.  However, shipments of these so-called core capital goods fell 1.0 percent. Core capital goods shipments are used to calculate equipment spending in the government's gross domestic product measurement. It was the third month of decline in shipments, prompting some economists to temper their second-quarter growth estimates.
Both the S&P 500 and NASDAQ came down to touch their 20 day moving averages.  We continue to have a "small cap" problem as the Russell 2000 is not playing along nicely.
Here you can see the Russell 2000 which might have put in a bearish "double top".
Looking at the NYSE McClellan Oscillator we are firmly in the negative camp below zero for the past month, which usually means the sledding is getting tougher and it has.  The indexes have made some upward movement but nothing substantial and breadth has weakened.  We definitely want to see this measure get back to above zero and stay there for a good amount of time as we had in June.
There is another measure worth looking at which is the % of stocks over their 50 day moving average – generally a stock above its 50 day moving average is in neutral to positive shape.  While both below it are in neutral to negative states.  You can see how this % has dropped a lot in July v June as breadth has weakened.
Ten year Treasury yields are back down in the 2.4%s which contrast with the idea of better economic data.  This appears to be part of the reason for Goldman's caution on the market.
Visa (V) fell sharply but was well off its lows as it lowered its full year revenue forecast.
Next week the Federal Reserve meets and everyone expects another $10B reduction in quantitative easing; there will also be another round of key earnings but we'll begin to slow on that end after next week.  See you back here Monday!
Continued here – 
STTG Market Recap July 25, 2014 – Stock Trading To Go