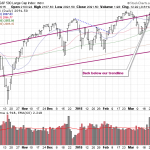 Quick note from Blain: US Investing Champions Mark Minervini and David Ryan (read my review of the workshop) are doing a webinar tomorrow (Wednesday) at 4:30 PM EST. Pretty rare, in fact this is the first one they've ever done together. Here's the link to sign up if you're interested. I'll be tuning in myself.
Inflation data caused a bit of a selloff Tuesday as the S&P 500 fell 0.61% and the NASDAQ 0.32%.  Inflation has been very benign in the U.S. during this Fed easing cycle and appears to be the only thing aside from a booming economy that will move the Fed to tighten.  While today's numbers were really quite benign, some pointed to the core CPI figure as a thing to worry about – but reality is it will take months on end of unexpected inflation to really force the Fed's hand.
U.S. Consumer Price Index rose 0.2% in February, in line with analysts' expectations, the Labor Department said.  The gain came after dropping 0.7% the previous month. The so-called core CPI, which strips out food and energy costs, increased 0.2% in February after a similar gain in January. In the 12 months through February, the core CPI rose 1.7%, the largest increase since November.
In other economic news, February new home sales rose 7.8% to 539,000, the highest level in seven years.
The S&P 500 did fall back below our upper trendline so it is something to watch in the coming days to see if that can be recaptured quickly.  Falling below that trendline has constantly created short term corrections but since we just exited a correction this occurrence has happened just after a recent one so stands out.
The Russell 2000 continues to be an area of relative strength – barely fell off today.
The NYSE McClellan Oscillator still remains positive.
Twitter (TWTR) broke out nicely today after holding an earnings "breakaway gap" for 6+ weeks.
Google (GOOG) climbed after saying it hired Ruth Porat, Morgan Stanley's chief financial officer, to succeed Patrick Pichette as its new CFO in May.
Netflix (NFLX) rallied after analysts from Cantor Fitzgerald LP and Barclays Plc boosted their ratings on the company.
Here are the 9 jobs (out of 342) where women earn more than men.  In 2013, among full-time, year-round workers, women were paid 78% as much as men, according to the American Association of University Women. That's the so-called pay gap between genders, and it hasn't moved much in a decade.
Originally posted here: 
STTG Market Recap Mar 24, 2015 – Stock Trading To Go