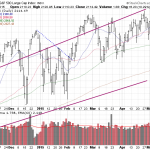 Indexes gapped up mildly in the U.S., tried to rally a bit and failed, and then did little from there.  The S&P 500 gained 0.29% and the NASDAQ 0.23%.  A lot of eyes will be set on Friday's employment data; economists forecast a 225,000 increase in April non-farm payrolls, and a one-tenth decline in the unemployment rate to 5.4 percent..   Factory orders for March showed a gain of 2.1 percent, the biggest increase in eight months and above expectations of a 1.9 percent increase.  There were also dovish Fed comments that helped the action:
Chicago Fed's Charles Evans said that hiking interest rates does not seem appropriate until next year due to the weak first quarter.
Data point:  Of the S&P 500 members that have already released results this season, 73 percent beat profit projections and 49 percent topped sales estimates. Analysts have tempered their predictions for a corporate profit slump, now projecting a first-quarter drop of 0.4 percent, compared with April 17 calls for a 4.3 percent decline.
There has been a decent 2 day bounce on the S&P 500 but really this index has not made much progress in a few months.
The Russell 2000 bounce perfectly off obvious support.
Still negative on the NYSE McClellan Oscillator which is a negative.
Financials are one area starting to stick out to the upside – see banking giant JPMorgan (JPM) as an example.
Comcast (CMCSA) earned 81 cents per share for the first quarter, seven cents above estimates, with revenue also above forecasts. Comcast also added $2.5 billion to its existing stock buyback program.
Shake Shack (SHAK) has been very impressive since its IPO!
Etsy (ETSY)…not so much.
This move in Chinese stocks that we've highlighted the past month continues – see Youku (YOKU) and Sina (SINA).
Jump to original – 
STTG Market Recap May 4, 2015 – Stock Trading To Go