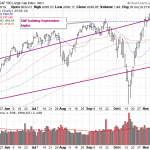 We continue to see bull market action as a quiet morning led to dip buyers emerging in the afternoon again.  The S&P 500 gained 0.31% and the NASDAQ 0.41%.  there was little in the way of news – this is just a classic melt up.
The NASDAQ has been consolidating for a week and a half after a big surge.  Meanwhile, the S&P 500 is breaking out – not waiting.  With the NASDAQ if it clears and holds this range (top of the yellow box) you often see a new leg up – but again we are in some overbought conditions so this would be a more favorable theme if we had pulled back a bit more.
As the NYSE McClellan Oscillator shows we are in the most extended "overbought" conditions in the past year.
Toll Brothers (TOL) climbed after the luxury homebuilder reported a 29 percent increase in quarterly revenue.
Alibaba Group (BABA) rose yet AGAIN ahead of Tuesday's "Singles' Day" in China, which has become the biggest day of online sales globally.
Time Warner Cable  (TWC) and Comcast (CMCSA) dropped after President Barack Obama called for rules protecting an open Internet.  Obama called for the "strongest possible rules" to protect the open Internet, saying there shouldn't be "fast lanes" and that high-speed service should be regulated.
Link – 
STTG Market Recap November 10, 2014 – Stock Trading To Go