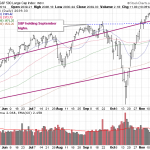 A bit of a change in pattern today as indexes opened up quite strongly but some selling hit the market later in the day.   The S&P 500 ended up with a gain of 0.05% and the NASDAQ 0.11%.  The big story of the day was another implosion in the price of oil.  Retail stocks were also in the news.
Indexes continue to be fine.
Finally some relent in the NYSE McClellan Oscillator as we see it move below 40 for the first time in a while.  Sustained readings between 10-40 are a bit more healthy for the market than constantly sitting at an extreme overbought condition.  Now we have some headroom to advance into.
We mentioned yesterday how oil continued to falter and today it fell out of a consolidation pattern to the downside.  This is almost the exact opposite of what we have seen in the NASDAQ of late – in that case we had a bullish consolidation that allowed to work off overbought conditions and then we saw it begin to pop to the upside.  Here we had a bearish consolidation that allowed to work off oversold conditions and now we are seeing a pop to the downside if you will.   Put another way, you can flip the chart upside down and they would mimic each other.
The oil sector stocks obviously are being hurt by this move; this is one area of the market that does is certainly not anywhere near recent highs – the sector ETF (XLE) shows us that.
Apple (AAPL) continued to breakout for the second day, we highlighted the breakout yesterday in the recap.
A couple large names in retail reported – Wal-Mart Stores (WMT)  climbed after the company reported a larger-than-expected profit as comparable sales at U.S. stores climbed for the first quarter in seven.  This is a huge move for a normally slow moving stock.
J.C. Penney (JCP)  declined after the retailer posted an unexpected third-quarter sales decline as consumers restrained spending amid the choppy economic recovery and warmer weather hurt sales of seasonal merchandise.
DreamWorks Animation (DWA) jumped after reports Hasbro Inc. is in talks to buy the studio.
Source article:
STTG Market Recap November 13, 2014 – Stock Trading To Go