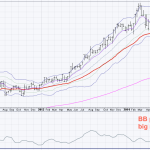 There are a number of companies that receive much attention from media types and are better known for their investment prowess, including Netflix, Priceline and Chipotle.
But today, among these, I will point to Priceline ($PCLN) as a potential short-time mover. The reason is that its weekly "Bollinger Bandwidth" is squeezed and pointing to a huge volatility expansion shortly.
Please note below its weekly chart…
In addition, its options are very cheaply priced, meaning the market is not aware of this big move coming. Look below to see how its IV (implied volatility), at 17%, is in a 1-year low (6% percentile) range.
Perhaps time to buy some September calls?
Tagged with:
•
•
Originally posted here: 
Technical Analysis: Big Move Ahead for Priceline ($PCLN …
See which stocks are being affected by Social Media