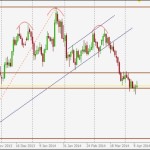 This material was provided by instaforex company – Visit InstaFOREX for more news and analysis daily. You can open an FX trading account with Instaforex direct from our website via our secure application form. find out more and Open an FX account at Instaforex here
Published On Fri, 11 Apr 2014 17:05:01
On March 12, the bulls failed to establish an ascending top. Instead, a Double Top reversal pattern was established at 1.5500. The neckline was located at 1.5170-1.5200 also corresponding to the lower limit of the depicted channel.
By breakdown of 1.51750, the Double Top pattern could not only achieve its projection target at 1.4820-1.4800, but also confirmed a bigger Head and Shoulders pattern as well.
The bears managed to break down 1.4950 corresponding to 50% Fibonacci level last week (the nearest Support level). This exposed the price level of 1.4750 ( 61.8% Fibonacci ).
Trading above 1.4740 on a daily basis will probably hinder further bearish progression giving some time for sideway consolidation at least for retesting of 1.4945 (50% Fibonacci) which is a prominent resistance now.
On the other hand, daily closure below 1.4740 (yesterday's daily low) and a slide below 1.4675 will open the way towards 1.4350 as a projection target for the long-term bearish pattern.
Until now, the bulls are offering support around 1.4700-1.4725 where two successive bullish daily candlestick were expressed this week.
This may enhance the bullish pull-back towards 1.4945 as an initial target.
On the long-term prospective, projection targets of the H&S reversal pattern are projected towards 1.4350 roughly.
The material has been provided by InstaForex Company –
www.instaforex.comInstaForexForex
View original post here:
Technical analysis of USD/CAD for April 11, 2014 | STOCKTRKR …
See which stocks are being affected by Social Media