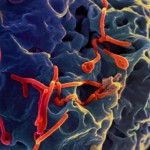 View gallery.This article is written by Christian Tharp, the author of 5 Star Trading.
The S&P 500 hit its last all-time high back at the end of 2014, and has chopped lower since.
The Nasdaq has fared a bit better over that stretch, but the index still has yet to hit a new bull market high since the end of December.
Through this period of choppy volatility, the perception is that all stocks have declined, but that most certainly isn't the case. Actually, some stocks have performed very well in the face of market turbulence.
As has been the case for years now, some of the best-performers come from the biotech industry.
Here are the three top-performing biotechs over the past month.
The third best-performing: Array Biopharma Inc (NASDAQ: ARRY).
View gallery.Array focuses on the discovery, development, and commercialization of small molecule drugs to treat patients with cancer.Related Link: Zogenix Received FDA Approval, Now What?
About a month ago, Array was trading near $4.50 per share, but since then, the stock has skyrocketed to the tune of a 48 percent increase.
The second best: Tekmira Pharmaceuticals Corporation (NASDAQ: TKMR).
View gallery.Tekmira and large moves seem to go hand in hand.At the start of January, Tekmira was trading near $15 a share. Now the stock is up 70+ percent from there and currently trades around $25.The top dog: ZIOPHARM Oncology Inc. (NASDAQ: ZIOP).View gallery.Ziopharm focuses on the discovery and development of cancer therapies that address unmet medical needs through synthetic biology.The stock itself was only trading around $5 per share about a month ago, but at the latest close (before Monday's after-hours move), it was near $9 per share.That's an 80 percent rise.The biotech stocks considered for this review were confined to those over $5 per share that traded at least 500K shares a day based on a 90-day average.Image credit: NIAID, Wikimedia
See more from Benzinga
5 Big Biotech Earnings Releases To Watch This Week
The 5 Biggest Biotech Stocks
Celgene Sells Off, But Begins Move Back Up
Finance
Investment & Company Information
Read this article: 
The 3 Best Biotech Stocks Of The Last 30 Days