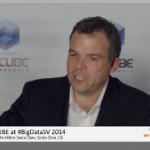 WANdisco CEO David Richards and Jagane Sundar, CTO and VP of Engineering of Big Data, discussed the company's latest developments and the current Big Data trends with theCUBE co-hosts Dave Vellante and John Furrier, live at BigDataSV 2014.
WANdisco has just released a new Non-Stop Hadoop product, a single cluster running HBase that can be deployed across multiple data centers spread over different regions. The company did a live demo of the product that uses the company's unique active-active replicating technology. As Sundar explained, the active-active approach helps "running your apps without any interruption" in case of server failure.
Commenting on HBase adoption, Richards mentioned a 30 percent deployment among customers. It is mostly used for stock feeds, twitter streams, streaming real time apps.
"We're seeing great desire for CIOs to do whole sale replacement their technology," he said, mentioning that a lower price is not the only incentive, as high efficiency is as important.
"Analyzing the market is difficult, it's really tough," Richards said. "One of the proxies for Big Data is hard drive manufacturers," who are up 15 percent, he explained. "Where Big Data adoption in real production environments is concerned, much like Splunk's success, players such as Hortonworks and Cloudera will take over the market, even if it's still dominated by the big whales.
"What we're seeing, what I expect to see, companies that traditionally invest in public companies have to move down the stack and invest in private companies," Richards said, adding that such deals would be happening in the next few weeks.
Big Data bubble?
 .
Asked if we were in a Big Data bubble, Richards said, 'In certain sectors we are." Yet this is just the beginning of a tectonic shift in the marketplace as companies move from the mainframe to 3-tier client-servers, he went on.
Commenting on trends of submitting more frequent reports, Richards said, "I like reporting quarterly. We do an update to the London Stock Exchange every quarter voluntarily" instead of the required ones submitted every six months.
Asked what trends currently excited him,  Sundar mentioned HBase, which is now front and center for WANdisco. There is a big Hadoop addoption and "disaster recovery is very interesting to customers." Explaining the HBase master – region server recovery process, Sundar stated, "we have the ability to do coordination before data goes into the system, so we have exact replicas of the same content of the regions."
As far as conversations with customers are concerned, or the need to explain highly techie products,  Richards said, "In Q4 we announced two very important strategic partnership – Cloudera and Hortonworks. Conversations typically happen at CxO level. We want to sell continuous availability, CIOs already understand the need for that."
About Alina Popescu
Alina Popescu is a regular contributor to SiliconANGLE, working as a consultant & Founder of
Mirror Communications, Marketing and Public Relations Agency
has been blogging for over 8 years, covering various topics from tech to marketing and tourism.
.

View all posts by Alina Popescu
More:
The Big Data "tectonic shift" is just getting started | #BigDataSV …