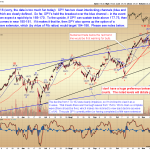 Before I get into the charts, the first thing I have to point out is that today is 11/12/13 — which means we only get to do this one more time (on 12/13/14), then the fun is over and it's back to work for all of us for the next 86 years.
In Friday's update, I noted the charts suggested that the S&P 500 (INDEXSP:.INX) 1757 appeared to be the key level for bulls to reclaim. SPX not only reclaimed 1757, but in fact never traded back below that level after doing so, and rallied straight up an additional 16 points. It has now moved back up to resistance near the all-time high. Bears will need to turn the advance directly, and in a moment we'll discuss why.
Something I like to do from time to time is open up a completely blank chart, then try to imagine it's the first time I've ever seen that chart. From there, I "start over" and rework my counts from scratch — I find this helps me look at things with fresh eyes and release any bias I may have developed. Sometimes I end up back in the same place I was before, and sometimes I don't.
Last night, I approached the S&P 500 SPDR ETF (NYSEARCA:SPY) as if I'd never seen the chart before, and the results are shown below. There are clear levels to watch and clean resultant targets.
SPX should track similarly, since it's basically the same index — and in fact, the counts I already had for SPX are quite harmonious with the "new" SPY counts.
The NYSE Composite (INDEXNYSEGIS:NYA) also presents similar levels.
In conclusion, the stock market has remained effectively stuck within the inflection point I began discussing a couple weeks ago, but we're finally to the point where things should start happening again. We now have fairly solid key levels to watch. I suspect the next move will have legs. Trade safe.
Follow me on Twitter while I try to figure out exactly how to make practical use of Twitter: @PretzelLogic.
Follow the markets all day every day with a FREE 14 day trial to Buzz & Banter. Over 30 professional traders share their ideas in real-time. Learn more.
Continued:
The Bull And Bear Cases, And The Next Key Stock Market Levels To …
See which stocks are being affected by Social Media