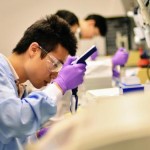 Related
AMGNSocial Media Beat: What The Crowd & Experts Think Of Oil, Biotech & LinkedInStocks Hitting 52-Week HighsAre You Ready For A Pullback BIIB AMGN GILD CELG UTHR JAZZ GOOG FB NFLX APA APC EOG PANW DO RIG(Marketfy Insights)
Related
CELG5 Biotechs With Catalysts Coming This WeekIs More M&A On The Way For Large-Cap Biotechs?Are You Ready For A Pullback BIIB AMGN GILD CELG UTHR JAZZ GOOG FB NFLX APA APC EOG PANW DO RIG(Marketfy Insights)
While all investors are likely concerned about the fallout from a potential FOMC interest rate hike as early as September, perhaps no demographic of the investing world is more concerned than biotech shareholders. Biotech stocks have long been seen as high-risk/high-reward stocks. Therefore, should biotech investors be worried about the potential "risk-off" trading environment following the Fed's first rate hike?
Historical Correlation
Bank of America analyst Ying Huang looked back at the sensitivity of the Nasdaq Biotechnology (INDEX: NBI) index and large-cap biotech stocks Amgen, Inc. (NASDAQ: AMGN), Celgene Corporation (NASDAQ: CELG), Biogen Inc (NASDAQ: BIIB) and Gilead Sciences, Inc. (NASDAQ: GILD) to interest rate hikes over the past 20 years.
Related Link: Roth Says Buy The Dip In This Biotech
According to Huang, there is no negative correlation between higher interest rates and biotech stock performance. The NBI actually outperformed the S&P 500 significantly during the period of interest rate hikes from June 1999 to June 2000. Although the NBI underperformed the S&P during the rate hike period from June 2004 to July 2006, Huang calculated only a weak correlation between the rate hikes and the NBI.
Large Caps, Less Sensitivity
Huang's analysis of large-cap biotech stocks showed that they all had a higher negative correlation to interest rates when they were smaller companies. This theory suggests that sticking to large-cap biotech names, such as the ones mentioned above, would be the best way to invest in the sector heading into the next rate hike.
Stock Picks
Overall, Bank of America is bullish on large-cap biotech stocks. "Fundamentally the large-cap biotech group is strong given earnings power, new product launches, more predictable regulatory environment, aging population, higher utilization of healthcare, and a renaissance in R&P productivity," Huang explained.
Bank of America's top biotech stock picks include:
Alexion Pharmaceuticals, Inc. (NASDAQ: ALXN)
Regeneron Pharmaceuticals Inc (NASDAQ: REGN)
Biogen
Celgene
Image Credit: Public Domain
Latest Ratings for AMGN
Date
Firm
Action
From
To
Jul 2015
Barclays
Maintains
Equal-weight
Jul 2015
UBS
Downgrades
Buy
Neutral
Apr 2015
Jefferies
Maintains
Buy
View More Analyst Ratings for AMGN
View the Latest Analyst Ratings
Posted-In: Bank of America Ying HuangAnalyst Color Biotech Top Stories Analyst Ratings Trading Ideas General Best of Benzinga
See the original post:  
The Historical Correlation Between Biotech Stocks And … – Benzinga