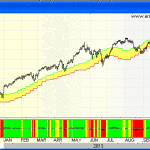 Last week we looked at how to buy a stock that blew up. The stock we looked at was Akamai Technologies (AKAM) that closed a week ago at $46.53.
A week later it is trading at $45.22 — well-within its normal weekly trading range of $2.54. I still like AKAM's potential upside.
This week we are going to explore how we can gain insights on insider trading, and not the legal insider trading where key people within publicly traded companies take ownership stakes.
Come again?
This may sound like a radical statement, but there is really is no such thing as insider trading, in my opinion.
That's because "someone" and/or "the market" always knows the information that can propel or kill a stock. This is how markets work, plain and simple. Markets simply do not work in an environment where information is ironclad.
The options market every day sees correct and outsized bets being made, and the moves show up in the stocks a day or two later. Whether it's a bet on an earnings report, FDA announcement, earnings upgrade or a takeover, the "insiders" know the outcome.
Today I'll show you how this has played out in one of today's hottest stocks … and the trading activity that can help you to capture its next moves.
Just between you and me …
My "Alpha Intelligence" Indicator has been on fire recently. In just the last two months it fired off 16 straight winning trades for over 299% gains …
Enough to turn every $10,000 investment into $39,300!
These are real-time trading recos … not back-tested results. In fact, over the last 12 months this indicator has racked up an incredible 83% win rate in beta-testing.
Find out how you can use this simple-but-unique strategy to pump up your gains in the coming months. Click here to learn how.
Internal Sponsorship
Outsized Bets, Outsized Moves Ahead
This information arbitrage is becoming more and more difficult for the regulators to deal with, thanks to how quickly information is processed. This information is priced into the stock well-ahead of time — that is why stocks move up and down each day.
The key is to observe how stocks are trading and to remember not to pay attention to the news but instead to watch how stocks react to news.
This is a subtle but very important thing to understand if you want to play on the same battlefield as the big boys.
That being said, we are going to look at a stock that has been ripe with insiders trading ahead of the average investor. The latest case is in the newly formed automobile manufacturer Tesla (TSLA), public since July 2010.
How do we follow what the so-called "insiders" are doing to grow or protect our own profits? It's easy … and it's legal! That's because …
Technicals Always Lead Fundamentals
I use technical analysis instead of subjective fundamentals to alert me when good or, in this case recently, bad things begin to happen to a stock.
The technicals ALWAYS lead the fundamentals … and that is once again the case with high-flying Tesla (TSLA), which is falling to earth just like Icarus did in Greek mythology.
Time to Short TSLA?
Tesla was trading above $190 in early October and it's now in the $121 area. Is this a bottom or is there more downside to come?
To determine which way to trade, long or short, I track the bias in the stock.
For this, I use the Erlanger Displaced Moving Average (DMA) Channel on a weekly basis. Typically, one can use the DMA Channel to set bias on a daily, weekly or monthly basis. I prefer weekly.
As you can see, the weekly DMA Channel did a nice job of getting one in the stock in April at $41.37. At that point, the rumors that Tesla was starting to finally see demand rise for its cars started proving out in earnest.
The DMA Channel also did a nice job of getting one out two weeks ago when it broke below the lower band at $165.40 when the stock closed below it on Friday, Oct. 28.
A key rule of the DMA Channel on how to trade it is to always wait for the time period to confirm the buy or sell as it finishes the period either above or, in this case, below the DMA Channel.
Next I add in the Erlanger Volume Swing (EVS), which tracks positive and negative volume. When the EVS breaks below 0 then that is a sell signal. Above 0 is a buy signal.
Right now the rats are leaving the good ship TSLA in droves. The selling picked up speed when it crossed below zero on Oct. 21.
So there you have it. Price began to fall and sellers emerged. If you bought the hype of the company or the media backing the company, you would have stayed with this name. Now the media or the mob has become fickle. To quote one of my favorite movies, "Gladiator":
Maximus! Maximus! Maximus!

They embrace him like he's one of their own.

The mob is fickle, brother. He'll be forgotten in a month.

Much sooner than that.

It's been arranged.
So now the news to bring down Tesla has been arranged. Though the crowd loves its founder Elon Musk, now there are many who want to take him down including potentially the Big Three (Ford, GM and Chrysler) along with big oil like ExxonMobil and Chevron.
Why? His model, once it expands beyond luxury cars, could disrupt the whole value chain.
So What is the News Driving the Stock Lower?
Tuesday morning, news came out that the National Highway Traffic Safety Administration has opened a formal investigation into the safety of the Tesla Model S.
Plus, Bloomberg published a rather in-depth story on Tesla and its accounting issues. Is it coincidence that such a hailstorm is hitting this company now? Not really, because those on the "inside" knew.
So that is how you can use the technicals to track when new information — which some may or may not be called inside information — begins to permeate the market.
Next update, we will look at Tesla and apply our approach to buying stocks that blew up to pick an entry point on this name. Until then …
Cheers & Hit 'Em Straight,
Geoff
P.S. Carl Icahn recently told Reuters he believes we could see a big drop in the stock market in the months ahead …
And many investors believe that the next big crash is almost inevitable.
But I'm not worried … because there are plenty of opportunities to collect big profits on both the upside and downside of the market in the next few months …
And in James DiGeorgia's newest investor presentation, you'll see exactly how we can help you turn that action into your trading advantage. Click here to check it out now!
Read More – 
The Real Reason Behind Stock Price Movements | Uncommon …
See which stocks are being affected by Social Media