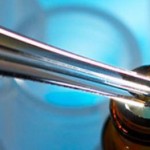 Small-cap biotechnology stocks offer some of the most breathtaking opportunities in the market, but some are better than others. For example, these three tiny biotech stocks are favorites among our Motley Fool experts, and that could mean they're worth watching.
Source: Portola Pharmaceuticals.
: Warfarin's decades long dominance as an anticoagulant used to treat heart disease and post-operative patients is waning, and that could be great news for Portola Pharmaceuticals ;.
Since the 1950s, doctors have turned to warfarin to help keep blood flowing freely in patients, but warfarin is far from a perfect drug. It requires continuous monitoring and diet changes and can cause brain hemorrhages. For those reasons, doctors are rapidly prescribing next-generation factor Xa inhibitors such as Johnson & Johnson 's ;Xarelto instead of warfarin. However, despite the 76% jump in Xarelto's sales to $1.5 billion last year, factor Xa inhibitors have one bid drawback: They lack an antidote. Portola could soon change that.
Portola has already reported ;phase 3 results showing that its drug andexanet alfa controls bleeding and reverses the anticoagulant effects of factor Xa drugs such as Xarelto. Studies are ongoing, but the data so far seems to suggest that demand for andexanet alfa could make it a top seller and that an eventual approval (if it happens) could expand the overall market use of factor Xa drugs. If that does happen, Portola could have another moneymaking drug in the wings. In fact, the company is studying its own factor Xa inhibitor, ;betrixaban, that could one day compete against Xarelto.
Keith Speights : Recent negative news could ultimately led to positives for another small biotech — Achillion Pharmaceuticals ;. Achillion's stock has taken a beating over the past few weeks as a pricing war erupted between AbbVie ; and Gilead Sciences ;.
All three companies make hepatitis C drugs, but Achillion is still in development with its two lead hep-C candidates, ACH-3102 and sovaprevir, both of which are in phase 2 testing. Achillion also has a phase 1 hepatitis C drug, ACH-3422.
There are some who would probably say that Achillion's likelihood of being acquired isn't as great as it used to be. And they might proclaim that the hepatitis C drug market isn't as appealing now, with the price competition under way. Maybe, but there's still plenty of upside potential for this stock, in my view.
With shares down more than 30% from January highs, any good news should send Achillion's shares upward. I also suspect that Achillion's pipeline could still be attractive to either AbbVie or Bristol-Myers Squibb . There's plenty of risk, of course, but Achillion is one small-cap biotech I'd definitely watch closely.
: Inovio Pharmaceuticals develops synthetic DNA vaccines — which can't replicate or spread in host cells — to be delivered through electrical pulses that boost cellular intake. Inovio's pipeline includes potential preventative and therapeutic vaccines for cancer, influenza, hepatitis C, malaria, and even HIV. But the problem with Inovio is that the company hasn't gotten a single drug approved since being founded over three decades ago.
Last September, Inovio investors cheered when Roche ;agreed to pay the company up to $412.5 million (and a $10 million upfront payment) and royalties for exclusive licenses on two vaccines — INO-5150 for prostate cancer and INO-1800 for hepatitis B. Unfortunately, Roche walked away from INO-5150 last November, erasing a large portion of those potential payments, although it's still sticking with INO-1800.
Investors interested in Inovio's immunotherapy technology should keep an eye on VGX-3100, its most advanced vaccine. A phase 3 trial to test VGX-3100 on cervical dysplasia, a common cause of cervical cancer, is expected to start in 2016. However, Inovio stated that its cash forecast throughout 2017 excluded funding for that trial, which means that a share-diluting secondary offering might happen before then.
Therefore, Inovio is a highly speculative bet at the moment, but biotech investors interested in new immunotherapies should keep an eye on its progress.
This coming blockbuster will make every biotech jealous
The best biotech investors consistently reap gigantic profits by recognizing true potential earlier and more accurately than anyone else. Let me cut right to the chase. There is a product in development that could revolutionize not just how we treat a common chronic illness, but potentially the entire health industry. Analysts are already licking their chops at the sales potential. If you hope to outsmart Wall Street and realize multi-bagger returns you will need to get in early — check out The Motley Fool's new free report on the dream-team responsible for this game-changing blockbuster. CLICK HERE NOW .
The article The Small-Cap Biotech Stock You Should Be Watching originally appeared on Fool.com.
Keith Speights owns shares of Portola, Achillion, and Gilead Sciences. Leo Sun has no position in any stocks mentioned. Todd Campbell owns shares of Gilead Sciences. The Motley Fool recommends Gilead Sciences and Johnson & Johnson. The Motley Fool owns shares of Gilead Sciences and Johnson & Johnson. Try any of our Foolish newsletter services free for 30 days . We Fools may not all hold the same opinions, but we all believe that considering a diverse range of insights makes us better investors. The Motley Fool has a disclosure policy .
Copyright © 1995 – 2015 The Motley Fool, LLC. All rights reserved. The Motley Fool has a disclosure policy .
The views and opinions expressed herein are the views and opinions of the author and do not necessarily reflect those of The NASDAQ OMX Group, Inc.
More – 
The Small-Cap Biotech Stock You Should Be Watching