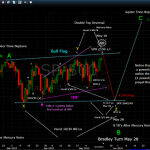 ---
The Stock Market is Topping!
By:
| Sat, May 16, 2015
Last time I wrote, I expected to see new highs on the S&P 500. The week before, I submitted a cycle chart where an expected three week cycle top should occur on May 18th. We are within a hair's breadth of the 2130 target I had for last week and should tag that price on Monday. We also have a new moon, which should easily reverse the trend back to down in the coming days.
I had been expecting something more major than what I'm seeing for the down side in the near term, but I think that all we get is about a 4% drop over the coming days (enough to make money on!). Not huge by any means, but not commensurate with a normal market with this kind of lagging stock participation.
I believe the biggest problem is: where do you put your money? Interest rates are too low, and gold and silver are in a bear market. The value investor says: stocks are too rich and the economy is slowing down (you can see this by looking at the transportation average, a Dow Theory sell signal). This is true, but we still have the same problem going forward.
This being said, I believe after this sell-off, we will see a 7% rally into June and new highs! Has the average investor gone nuts! Perhaps, but I believe the time is near when the market will drop anywhere between 10-17% and that it will happen quite quickly (over the course of a month) and it will shake the buy and hold investor a bit (but not too much). They will say, "The market will always come back", and I think it will, but they will have missed out on the trading opportunities (moves 'both up and down') that this "schizoid" market will continue to present to us going forward.
I keep saying, "The days of buy and hold are over. The easy money has been made." Eventually, the time will come, when the bubble will burst and the market will fall by more than 80%. But for now, the majority will go on unaware that a major economic catastrophe is on our doorstep, that will, in my opinion, also likely lead to a major military conflict in the Middle East and Europe. We probably have a few more years of this insane topping action left before the crash begins. So what are you: a buy and hold investor or a trader?
Below is a chart of the S&P 500, with E-Wave denotation, cycles, astro, etc., projecting into the late May bottom and the expected June top.
Silver broke out to the upside over the past few days. Either Monday or perhaps Tuesday, I believe silver will fall about 5% suddenly overnight into early trading. We are still in a bear market in silver.
---
The BluStar Market Timer was rated #1 in the world by Timer Trac in 2014 (and from April 1, 2014 through March 31, 2015), competing with over 600 market timers. This occurred despite what the author considered to be (and still considers to be) a very difficult trading environment.
The BluStar Market Timer also now offers auto-trading and timely signals trading the Direxion BULL/BEAR 3X ETF, which is up 19.8% since April 15, 2015 and tracked through a reliable source.
Brad Gudgeon, editor and author of the BluStar Market Timer, is a market veteran of over 30 years. The subscription website is www.blustarmarkettimer.info
To view the details more clearly, you may visit our free chart look at www.blustarcharts.weebly.com This web site is also updated periodically as events unfold.
---
Please enable JavaScript to view the comments powered by Disqus.
Brad Gudgeon
BluStar Market Timer
BluStar Market Timer Investment Philosophy: The stock market is currently in a technical Elliott Wave Bear Market Rally. It has been exhibiting A-B-C type waves instead of the normal 5 Waves since the market topped in 2000. According to "The Original Works of R.N. Elliott", we are due for a move down to about the S&P 500 442/443 area in the next few years. In my opinion, this is no longer a buy and hold market, but a traders' market. We mainly swing trade the market with funds and ETF's, but otherwise trade according to the market's disposition and to the traders' discretion. For the year 2014, BluStar Market Timer is rated #1 according to Timer Trac. http://www.blustarmarkettimer.info
Disclaimer: The information provided by the BluStar Market Timer is to be used for educational purposes only. We do not recommend the buying or selling of any securities, are not registered investment advisers and do not offer investment advice. Stock market investing is considered risky. Market timers can and do make mistakes. Past performance is never a guarantee of future performance.
Copyright © 2014-2015, BluStar Market Timer. All rights reserved.
All Images, XHTML Renderings, and Source Code Copyright © Safehaven.com
More:
The Stock Market is Topping! | Brad Gudgeon | Safehaven.com