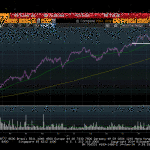 Editor's Note: Todd posts his vibes in real time each day on our Buzz & Banter.
The markets took it on the chin yesterday, paving the way for the ugliest stock market session in months. It's all relative, we know—investors are sitting on 30%+ gains from last year—but that was then and this is now. With earnings season in full swing, the tape has a distinct flavor of, "What have you done for me lately?"
What was the downside catalyst? A hawkish Dennis Lockhart ("the economy is on solid footing"), a negative note from Goldman Sachs (NYSE:GS) (markets are overvalued on most metrics; 65% chance of a 10% correction) and uncertainty ahead of earnings, which will provide the next series of tangible catalysts.
While smart money will—and has—argue(d) that tapering is already priced into the marketplace, the specter of a less accommodative Federal Reserve, coupled with said earnings, gave buyers a cause for pause. Our contacts inform us that there was more covering (of short positions) yesterday than initiated short positions; I suppose old habits die hard.
Following an outsized move in the market, the tape tends to probe the prevailing direction, at least once. Through that lens, the higher pre-market futures (indicated +4.70) will likely set up a fade lower at a point today. From there, we will take the tape's temperature, which includes the reaction (to earnings) in JPMorgan (NYSE:JPM) and Wells Fargo (NYSE:WFC).
Chewing through the morning headlines, the most interesting item I saw was that the planned $63 billion contribution to the IMF was not included in the spending bill from Congress, which is sure to cause a few noses to scrunch throughout the world. I don't know how this impacts our quota but it's worth sniffing as it smacks of isolationism (which, as we know, is the "other side" of globalization).
Finally, retail sales came in better than expected for December 2013, which is somewhat surprising given the weather mulligan. Whether "good is good" (stronger consumer, which is 70% of GDP, pacing the economy) or "good is bad" (portends more aggressive tapering) remains to be seen but yesterday's price action put the bulls on notice that 2014 won't be a one-way ticket to prosperity.
Random Thoughts:
S&P (INDEXSP:.INX) 1800-1850 remains the two-sided stair-step range; Mr. Valentine has set the price
The SPDR S&P Retail ETF (NYSEARCA:XRT) broke major support yesterday, so that, too, goes on our radar to measure the reaction to news.
Some forward perspective: Despite yesterday's 20-handle drop, the S&P is still up 173% since March 2009, 35% since November 2012, and 11% since the blink-and-you-missed-it October 2013 pullback, and that's just the S&P—I see select stocks up 400% since last summer!
I heard someone on TV say that there is a lot of fear in today's market; I humbly disagree. While the VXO (INDEXCBOE:VXO) was up 14% yesterday, it's still trading pre-teens. I included a 15-year chart below, juxtaposed against the S&P for schnitz and giggles. I suppose where you stand is a function of where you sit.
I wrote The Financial World in Charts last week; if you missed it, it offers necessary context for our forward path. The rising tide lifted all boats in 2013; this coming year, our performance will more likely be determined by the skill of the captains.
Ay ay, matey; I'll see YOU over on our real-time Buzz & Banter (click here for a free trial).
R.P.
Twitter: @todd_harrison
Follow Todd and over 30 professional traders as they share their ideas in real-time with a FREE 14 day trial to Buzz & Banter.
This article:
Todd Harrison: Are Darker Days Ahead For The Stock Market …
See which stocks are being affected by Social Media