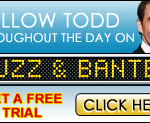 Road signs and guidelines as we pave our forward path.
More by Todd Harrison
Todd Harrison: A Look Ahead to Financial Markets in 2014Todd Harrison: Answers That Will Define 2014Todd Harrison: What Gold Is Telling Us About the Future of Stocks What's the Buzz?
30 top traders on these stocks and more
Editor's Note: Todd posts his vibes in real time each day on our Buzz & Banter.
It's Turnaround Tuesday in the City of Critters, and on cue, the tape is trading higher following (gasp!) three lower sessions to start the New Year.
The financials (they've been trading sticky green), high-beta tech (including Netflix (NASDAQ:NFLX), Amazon (NASDAQ:AMZN), Twitter (NYSE:TWTR), Apple (NASDAQ:AAPL), and market breadth (which hung tough during yesterday's decline) will help guide today's way.
S&P (INDEXSP:.INX) 1795-1800 (50-day and the previous breakout zone) will provide the first tangible support zone.
As we collectively edge into the New Year, and in an attempt to keep it fresh, I'll deep dive into some Random Thoughts, in no particular order:
The financials again act well out of the gate; they remain the carrot to the market's stick. As goes the piggy, so goes the poke.
I almost bought some Twitter for the kids' long-term accounts when it traded in the high $50s last week, but didn't pull the trigger. You may remember that I had a GTC order to buy this stock in the $30s, but it never broke $40 — and then took off to $70-plus. It's no bargain at a $50 billion valuation so I'll try to be patient, but I'll remind myself that LinkedIn (NYSE:LNKD) was a value trap at $100, too.
And yes, I openly wondered if Sir Isaac Newton would have done the same.
I continue to believe that cannabis plays will have a secular tailwind for the foreseeable future, but tracking risk is high. Think about all the biotech stocks in the early '90s. While some of them were toe-tagged, a slew of investors made ridiculous amounts of money. The same will prove true again.
The first week (or so) of the New Year is typically full of portfolio rebalancing after the "games people play" into year-end.
We spoke last month about the likelihood that gold and gold miners could bounce once the year-end tax selling subsided, and they've done so the first few days of 2014. I'm not married to this metal or derivative plays thereof — it was a trade, and trades are made to be taken, although we could see further lift. Trailing stops make sense, if you're playing along at home.
We posited a "long Twitter-short Facebook (NASDAQ:FB)" pairs-trade (with prices at $40 and $47, respectively) on an absolute price basis, and that, too, proved accurate. Those stocks still provide a hedge against each other, but the "easy trade" has passed, in my view.
Put a water pistol to my keppe and I'll say that rising rates — against the best efforts of the Federal Reserve — have the potential to be a downside catalyst, particularly if the slope is steep.
We've got a long year ahead so I hope you took the time to relax and balance a bit the last week or so. I can tell you that the respite did wonders for yours truly as I got to reconnect with my wife and kids in a way that's not possible over a weekend.
On a programming note, Mr. Honey Badger himself, Michael Gayed, and I will co-host today's Fireside Chat at 4:30 p.m. ET. It's free, and all you have to do is click here to register. We'll be covering everything from emerging opportunities to areas of concern as we edge into the New Year.
R.P.
Twitter: @todd_harrison
Follow Todd and over 30 professional traders as they share their ideas in real-time with a FREE 14 day trial to Buzz & Banter.
No positions in stocks mentioned.
Click Here to read the disclaimer >
Todd Harrison is the founder and Chief Executive Officer of Minyanville. Prior to his current role, Mr. Harrison was President and head trader at a $400 million dollar New York-based hedge fund. Todd welcomes your comments and/or feedback at [email protected].
The information on this website solely reflects the analysis of or opinion about the performance of securities and financial markets by the writers whose articles appear on the site. The views expressed by the writers are not necessarily the views of Minyanville Media, Inc. or members of its management. Nothing contained on the website is intended to constitute a recommendation or advice addressed to an individual investor or category of investors to purchase, sell or hold any security, or to take any action with respect to the prospective movement of the securities markets or to solicit the purchase or sale of any security. Any investment decisions must be made by the reader either individually or in consultation with his or her investment professional. Minyanville writers and staff may trade or hold positions in securities that are discussed in articles appearing on the website. Writers of articles are required to disclose whether they have a position in any stock or fund discussed in an article, but are not permitted to disclose the size or direction of the position. Nothing on this website is intended to solicit business of any kind for a writer's business or fund. Minyanville management and staff as well as contributing writers will not respond to emails or other communications requesting investment advice.
Copyright 2011 Minyanville Media, Inc. All Rights Reserved.
Busy? Subscribe to our free newsletter!
Original source: 
Todd Harrison: The Turnaround-Tuesday Stock Market Road Map …
See which stocks are being affected by Social Media