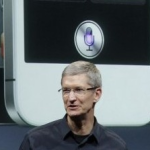 Speculation is flying this week as Apple gears up to make its much-anticipated announcement on Tuesday, September 10. Will iPhones come in new colors? Will there be a low-cost version? Will it scan your fingerprints?
We won't know for sure until tomorrow. But for Apple shareholders, those questions are minor details compared to the real issue: Will the new iPhone sell?
This week's buzz feels eerily similar to the days before the iPhone 4S launch in October 2011. After Apple made its announcement on October 4, 2011, the media let out a collective groan of disappointment:
Preorders for the iPhone 4S began on October 7. The media continued to pile on negativity:
However, Topsy sentiment scoring began to reveal a different story. Despite the negative stories in the press, sentiment for "iphone 4s" across Twitter began to climb and stayed high.
As the week wore on, the balance of positive and negative tweets began to shift even further in the positive direction.
On October 17, Apple announced its quarterly results. Most journalists anticipated weak earnings, given the negative tone of much of the press around the iPhone 4S launch. But Apple surprised them by announcing first weekend sales that exceeded any prior phone launch. "iPhone 4S is off to a great start with more than four million sold in its first weekend—the most ever for a phone and more than double the iPhone 4 launch during its first three days," said Philip Schiller, Apple's senior vice president of Worldwide Product Marketing in a press release. "iPhone 4S is a hit with customers around the world."
We'll be keeping a close eye on sentiment around the new iPhone in the coming weeks, as sentiment can often be a leading indicator for the success of a new product. Apple shareholders should do the same.
Want to track sentiment and reaction to the new iPhone for yourself? Sign up now for a free 14-day trial of Topsy Pro, our most advanced analytics platform enriched with instant analytics, influencer identification, related terms discovery, geographic insights, and more.
Original article:  
Topsy | Can social sentiment predict the success of the new iPhone?