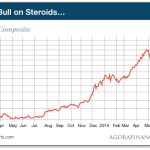 Have you come out of your bunker yet after Monday's Greek tragedy?
You might have expected more fireworks yesterday after Monday's 350-point rout. But the Dow managed to gain 23 points and the Nasdaq tacked on 28.
So where do we stand right now? And what should you do with your money today?
I'm going to tell you…
But before we get to my favorite place to hide out, check out some toxic hot-spots popping up across the globe.
Of course there's Greece. The waters may have calmed but is another tempest on the way that could sink this market for good? It depends who you listen to on TV…
Then there's Puerto Rico. According to its governor the Caribbean island is in a "death spiral". At least that's what he said about its $72 billion in "unpayable" debts. But everyone's watching the Greek drama play out right now so if the Puerto Rican "death spiral" is as lethal as it sounds, no one's noticed.
And don't forget China with its overheated stock market. The white-hot Shanghai Composite officially entered correction territory this week. But in true market-mania fashion, the Shanghai surged more than 5% Tuesday.
Bottom line: There are plenty of potentially toxic market events lurking in every corner of the world right now. So we've got to be careful. But just like I've said many times before, bad news gets amplified when the stock market's going down. That's just human nature.
And when stocks go down a lot, like on Monday?
Then everything becomes a full-blown crisis. Monday's selloff was the worst day for U.S. stocks this year. Many thought it was the start of the big one. I'm far from convinced, though.
So how do the markets look overall right now?
Yesterday' so-so bounce leaves the S&P essentially flat on the year, the Dow down a cool 1% in 2015, and the Nasdaq charging ahead of the pack with a whopping 5% gain. Not great – but not a disaster either.
Wait a minute, what gives? Common sense says the biggest, "safest" stocks in the world should be leading the market if we're heading into a crisis, right?
But that's not the case at all. In fact, it's the "riskier," tech-heavy Nasdaq that's way out in front. You thought markets were predictable? Please…
Yesterday, I said you could find opportunity in almost every market. What I didn't say was that it might not make any freaking sense at all. For example, Twitter (locked in a downtrend for months) decided to rally nearly 6% on Tuesday. I'm sure that was all about Greece, right? Yeah, sure. Whatever.
Then there are biotechs. I noted Monday that a few biotech stocks were keeping their cool during the carnage. Same thing Tuesday. And here's a stat that'll knock your socks off: 70 biotech stocks are in the green so far this week—a week where almost every single S&P 500 component was in the red on Monday afternoon. That's some incredible strength considering the circumstances.
Who would have thought these biotechs would contribute to the market's new "safety trade"?
Regards,
Greg Guenthner

for The Daily Reckoning
P.S. The new safety trade? If you want to cash in on the biggest profits this market has to offer, sign up for my Rude Awakening e-letter, for FREE, right here. Stop missing out. Click here now to sign up for FREE
See the article here:  
Toxic Markets Are Everywhere. Here's the Safest Place for Your Money Today…
See which stocks are being affected by Social Media