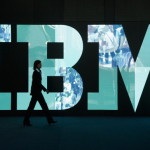 I'm relatively bearish on IBM (NYSE:IBM) shares. The company has been a major disappointment over the past couple of years, and this is reflected in the company's stock price, which has been topping out. I think that in the longer term, we can see further downside in the stock, and for the time being, I don't think that it is a good investment.
However, the recent weakness in the stock has created a short-term trading opportunity, and I think tactical traders who can enter and exit a position quickly will be rewarded if they buy IBM shares around the current price ($181 per share), or maybe a couple of dollars per share lower. Here's why.
First, one of the problems that has been driving shares lower as of late has been that the company has not been growing its earnings. This is a problem that is likely to persist for the company as it transitions from a low-margin, highly commoditized hardware business to a high-margin, specialized cloud-based business. This transition will benefit the company longer term, as cloud computing is a growth industry that is driven by knowledge, which IBM has. However. the company's hardware business still comprises a substantial portion of its total sales and profits, and as this business slows and as margins continue to compress, the company's overall earnings will take a hit.
But next quarter, the company is going to have strong year-over-year comparisons, as it realized a $1 billion onetime expense in the second quarter of 2013. This doesn't mean that the company will be growing again: in fact, the quarter should show further revenue and profit declines. But I suspect that investors will drive the shares higher on the strong year-over-year comparison. I think that investors should buy the stock now or soon in anticipation of this pop and be prepared to sell it on this news.
More: 
Trade the Bounce: IBM Stock Is Getting Ready to Run
See which stocks are being affected by Social Media