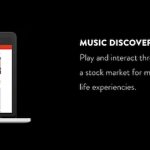 Tradiio Thinks a Virtual Music Stock Market Is a Good Idea
Thursday, November 20, 2014
by
Tradiio is a new platform/game that will soon launch. The platform is scheduled to go live in England in February 2015, but is based in Portugal, according to Dinheiro Vivo.
Tradiio says the platform will be free.
Users will listen to artists who have uploaded their music to Tradiio, investing virtual coins in the artists they like.
Dummy says users will be able to exchange "virtual winnings" for real life prizes, like festival and concert tickets.
Source: 
Tradiio Thinks a Virtual Music Stock Market Is a Good Idea – Digital …