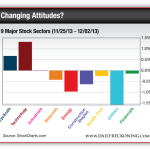 You have only one month left to pad your 2013 returns.
So I have to ask…
Are you trading the right stocks?
As the market enters the home stretch, the sentiment picture is little changed. Investors are beginning to come around to the idea that equities might not be such a terrible investment idea. But most remain skeptical– and that's good news for the market.
"Blind contrarians are a good thing for trends. Every trend needs doubters and skeptics – otherwise there won't be anyone left to buy," explains Ivanhoff Capital founder Ivaylo Ivanhoff. "Will we see another round of performance chasing in the last month of the year? Most of the momentum leaders from the first 3 quarters experienced sizable corrections in Q4. The best performers since October have been breakouts from several month long ranges. This is not a sign of froth. The fear of missing out is not that much bigger than the fear of losing. The market has been very level-headed and it has constantly corrected through sector rotations and pullbacks to major moving averages."
With many of the year's best momentum names weakening, it's time to update your watch list…
Recent Media
---
---
Popular Articles
by
.
Posted Dec 3, 2013.
---
by
.
Posted Dec 3, 2013.
---
by
.
Posted Dec 2, 2013.
---
by
.
Posted Dec 2, 2013.
---
by
.
Posted Dec 2, 2013.
---
by
.
Posted Dec 3, 2013.
---
© 2013 Agora Financial, LLC. All Rights Reserved.
TwitterFacebookGoogle PlusLinkedInRSSSign Up FREE
Contact Us
Privacy Policy
From:
Trading the Right Stocks at the End of 2013 – The Daily Reckoning
See which stocks are being affected by Social Media