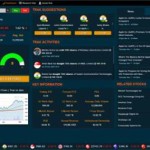 There are several virtual stock exchanges, including ones just for kids, but TrakInvest stands apart by giving its members a chance to turn fantasy trades into real jobs. Founded by a former JP Morgan principal, TrakInvest partners with institutions like Thomson Reuters and Religare to offer sponsored internships to students in emerging Asian markets.
The platform launched to the public in late December and is open to people anywhere in the world (TechCrunch readers can sign up through this link), though it currently focuses on reaching aspiring traders in India, Singapore and other Asian countries. Headquartered in Singapore with offices in India, TrakInvest has received early investment from SparkLabs Korea, as well as leading family offices in India and the Middle East.
Founder Bobby Bhatia say his site seeks to differentiate from other fantasy trading platforms with a "learn-share-earn" model. TrakInvest's main goal is to serve as an education and talent identification tool where students can connect with experienced traders from institutions like JP Morgan. Two of the top traders on the platform represent the types of users Bhatia wants to sign up: Roshni Kanchan, a housewife in India with a 12% return and Alex Dicu, a Polish student studying for an MBA in Singapore.
"As more people start using it, our belief is that what we will do is change how trading is done in the emerging markets," says Bhatia. "In emerging markets there has been arbitrage opacity. We are moving to arbitraging intelligence."
Helping Aspiring Traders Launch Their Careers
TrakInvest currently has 50 sponsored internships lined up to offer to the top student performers over the next few months. So far, 15 of TrakInvest's top traders have landed internships in Hong Kong and Singapore at Religare and TrakInvest's office, and TrakInvest is finalizing details with banks in Singapore and Hong Kong. Interns are picked based on their portfolio performance, research and discussions on the site.
A former JP Morgan Partners principal and managing director at AIG, Bhatia began thinking about creating a combination virtual trading community/talent discovery platform after returning to Asia and serving as a mentor to university students. Many had trouble finding the internships they needed to launch a financial career.
"When I became independent and set up my own businesses, I started trading equities much more actively. I also saw a number of inefficiencies," he says. "I built this for my own personal use because I thought 'wouldn't it be great if I could get the smartest people at the National University of Singapore or the University of Hong Kong and connect with them to get their views?' I was mentoring groups of them anyway."
For users who aren't seeking internship opportunities and are just interested in fantasy trading, TrakInvest wants to differentiate from competing sites, like Wall Street Magnate, which we profiled in July and Marketwatch's virtual stock exchange, by focusing on social media integration. TrakInvest also hopes to gain an edge with its Thomson Reuters partnership, which gives TrakInvest users access to analytics that usually cost thousands of dollars; the site's own independent research reports; and its proprietary stock-scoring algorithms. TrakInvest currently has 12,000 reports covering markets and exchanges in countries including Australia, India, China and the U.S.
TrakInvest's partnership with a subsidiary of Religare Financial, one of the country's largest financial and brokerage houses, will also eventually allow users to open brokerage accounts and execute real money trades through TrakInvest's platform.
Reaching Out To Students
Most of the site's current 2,000 users were recruited from universities while it was in beta. It has received support from several academic institutions, including the Risk Management Institute at NUS, which made about five years of research data available to TrakInvest.
Bhatia's describes TrakInvest's initial target user as someone between the ages of 20 to 35, who wants to learn more equity trading, follow successful traders and have an auditable way to track to their performance record. The site uses an two-step authentication process to encourage people to use their real names, which creates accountability. Incentives for user engagement include competitions that reward people who refer the largest number of friends or start the most interesting discussions on TrakInvest.
The site is currently working on a ranking methodology that will evaluate the trading style and risk adjustment return of individual users. This will be especially useful for students with no previous trading experience and can be integrated into their LinkedIn profiles.
Bhatia says he wanted to have internships because of his own career background. Born in India, raised in Kuwait and studied at Stanford and Duke before starting his financial career at O'Connor and Associates in Chicago. He was a principal and founding member at JP Morgan Partners Asia before serving as the managing director and head of principal investments at AIG for the APAC region.
After moving to Singapore, Bhatia began mentoring students and realized how difficult it is for people to get a foothold on a financial career, especially in emerging markets.
"Jobs were much, much, much more difficult to come by and many were given to people from top universities who had top internships, which were in turn even more difficult to come by," says Bhatia. "In many cases I felt they were driven by personal connections. A huge part of internships are driven by due process, but others are 'I have a friend here' or 'I know someone there.'"
He adds "I would approach people on behalf of the people I was mentoring. The argument I would use was to show real pieces of work, real performance records and then request an internship on their behalf. That was the beginning of that concept."
TrakInvest is free and will remain free for students. Bhatia says the site is considering a revenue model that will allow student traders to charge a small fee for non-students to follow them and take a commission from that. TrakInvest may also charge a small fee, no more than $9.99, for premium research and analytics. Other potential monetization strategies include providing independently audited track records for traders to give to prospective employers or clients.
See more here: 
TrakInvest Is A Fantasy Stock Trading Platform That Can Lead To …