Triad Mafia Boss Raises $750 Million ICO in 5 Mins, Teams Up with Chinese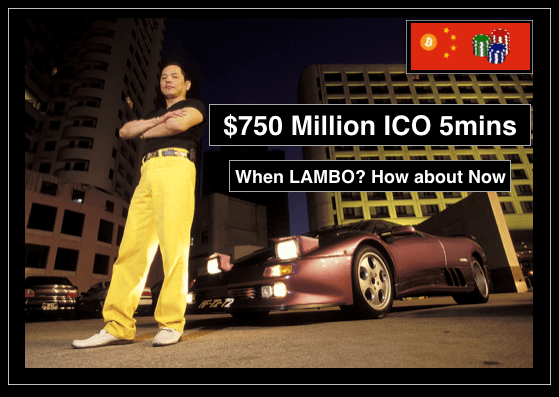 Bitcoin's $14K Fall

Significant speculation has surround the drop in Bitcoin price from almost $20K mid December 2017 to the current BTC price of $6,300 July 10th, 2018.

Everything from Tether, the Credit Card Companies pulling purchasing ability, Hacks, Scandals, Major FUD Announcements, and even concerns over Bitcoin Futures.

After diving into historic moves using correlated news with subsequent Bitcoin price changes, it becomes clearly evident whats driving the up's and down's in overall price.
December 2013 Bitcoin Falls 63%
(China Restricts Banks' Use of Bitcoin)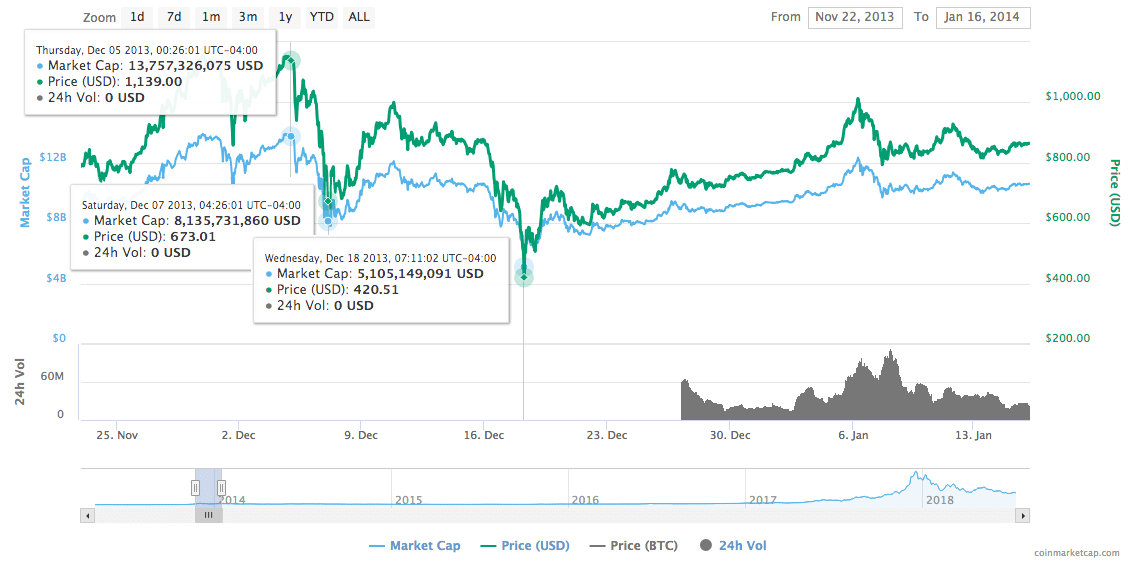 Thursday DEC 5th | BTC Reaches All Time High of $1,139.00
Thursday DEC 5th | China Restricts Banks' Use of Bitcoin
Saturday DEC 7th | BTC Drops to $673.00
Wednesday DEC 18th | China's Largest Exchange Blocks New Deposits
Wednesday DEC 18th | BTC Drops to $420.00
SUMMARY: Due to the events above, less than two weeks after Bitcoin's ATH, Bitcoin lost 63% of its value.
January 2014 - Jan 2016 Bitcoin Continues Slide Down
(China Builds Massive Bitcoin Mining Rigs, Generating Millions Per Month in Mining Fees)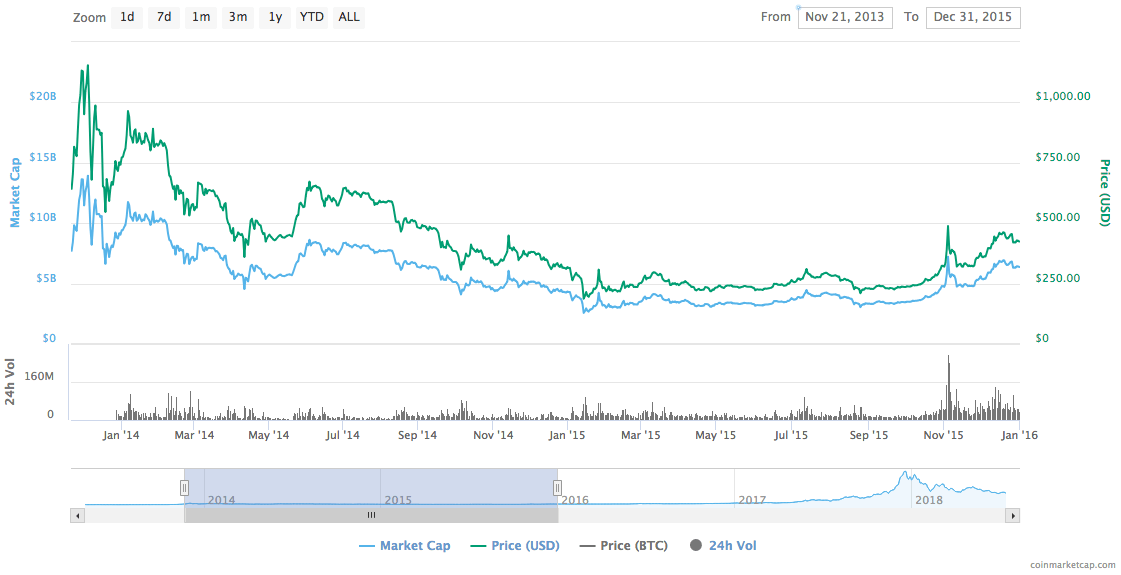 JAN 6th 2014 | China Bites Into Bitcoin
AUG 12th 2014 | Roaring Fans to Liquid Baths, China's Cryptocurrency Rigs are Serious Business
FEB 6th 2015 | Inside the Chinese Bitcoin Mine That's Grossing $1.5M a Month
January 2016 - Jan 2017 Bitcoin Begins Climb Up Again
(China Continues Mining & Focuses on Exchanges )
JAN 22nd 2016 | China Wants to Launch its Own Digital Currency
MAY 4th 2016 | Look Inside a Secret Chinese Bitcoin Mine
JUN 6th 2016 | Did China Drive Bitcoin's Price to 2016 Highs?
SEP 6th 2016 | Chinese Bitcoin Mining Developer Canaan Acquired for ¥3 Billion
DEC 30th 2016 | China is Behind the Latest Bitcoin Craze
January 2017 Bitcoin Falls 35%
(China Stops Citizens From Moving Money Out of Country)
Thursday JAN 5th | BTC Reaches New All Time High of $1,183.00
Thursday JAN 5th | China will introduce new measures to stop its citizens moving money out of the country
Thursday JAN 5th | BTC Drops to $762.28
SUMMARY: Due to the events above, less than one week after Bitcoin's new ATH, Bitcoin lost 35% of its value. It's also important to note that China at that time accounted for 90% of BTC Trades.
February 2017 Bitcoin Loses 12%
(China's Biggest Exchanges Stop Bitcoin Withdrawals)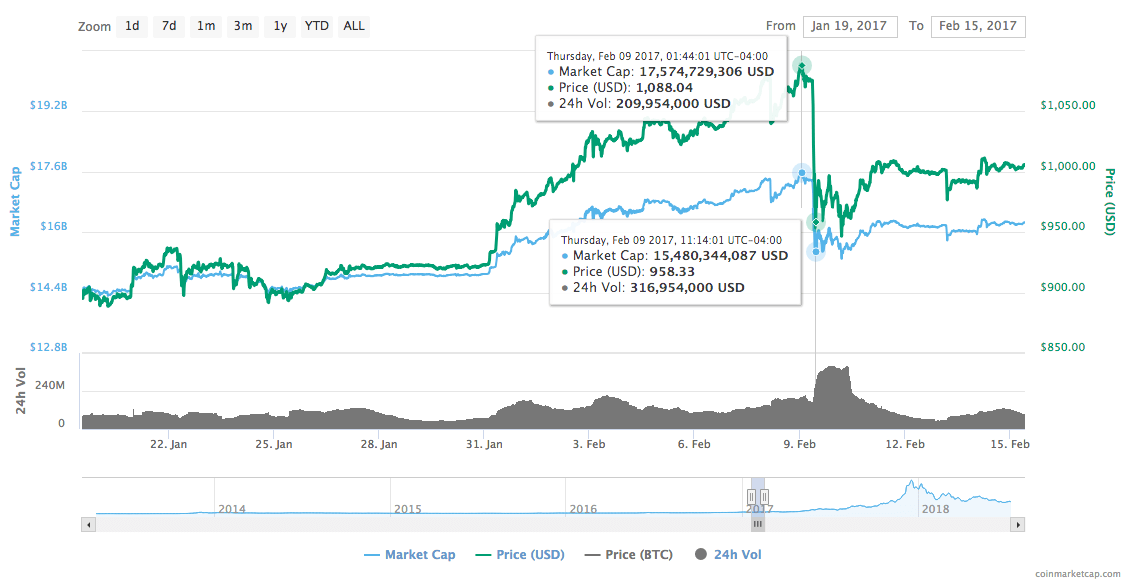 Thursday FEB 9th | BTC Climbs Back to $1,088.04
Thursday FEB 9th (Afternoon) | Two of China's Biggest Exchanges Stop Bitcoin Withdrawals
Thursday FEB 9th | BTC Drops to $958.33
SUMMARY: Due to the events above and, on the same day, Bitcoin lost 12% of its value
March 2017 Bitcoin Drops 23%
(China's Biggest Exchange Announces Withdrawal Halt)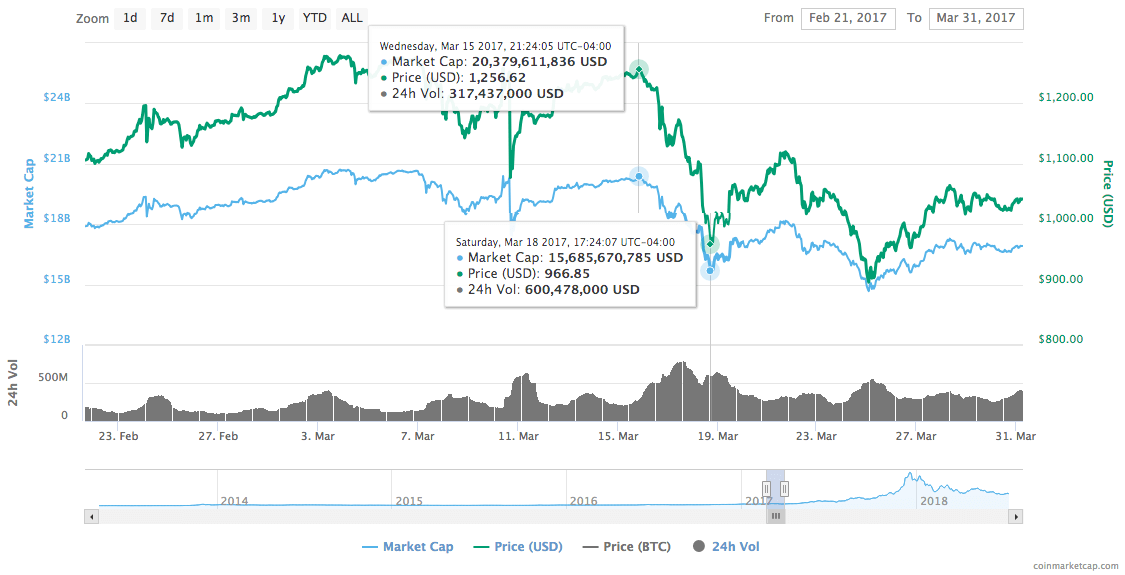 Wednesday MAR 15th | BTC up at $1,256.62
Wednesday MAR 15th | Chinese Bitcoin Exchange BTCC: Crypto Withdrawals 'Will Resume' March 15
Saturday MAR 18th | BTC Drops to $966.85
SUMMARY: As China re-opened the ability to withdraw on Mar 15th, a significant volume of selling began and three days later Bitcoin lost 23% of its value.
May 2017 Bitcoin Jumps 36% in 5 Days
(China Exchanges Resume Withdrawals)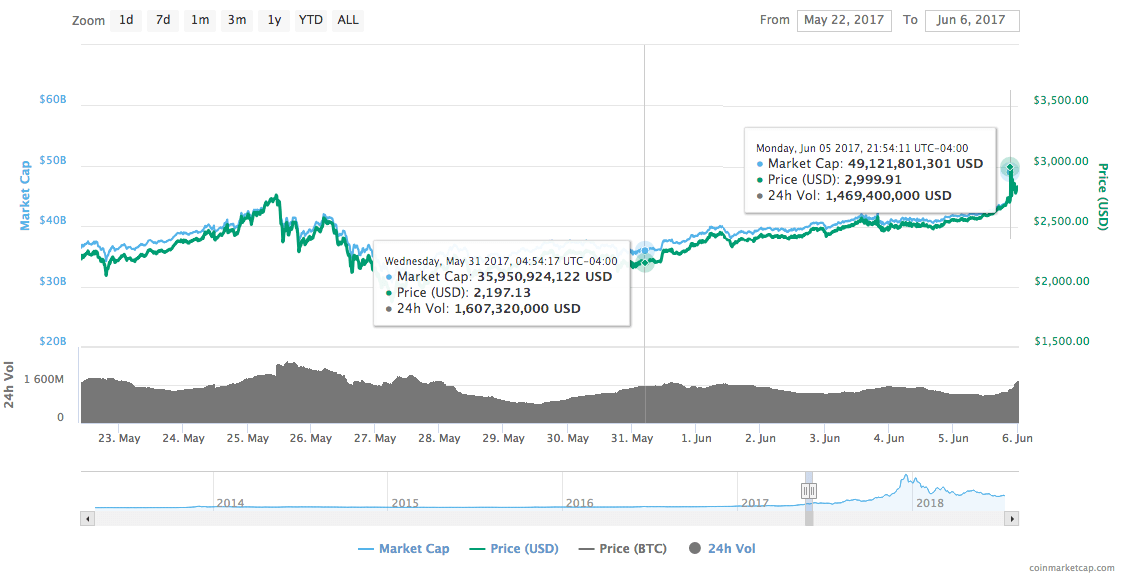 Wednesday May 31st | BTC at $2,197.13
Wednesday MAR 15th | Chinese Exchanges Resume Withdrawals, Bitcoin Likely to Surge
Saturday Jun 5th | BTC Jumps to $2,999.91
SUMMARY: As China regulation fear subsided, Bitcoin jumped 36% in 5 days
September 2017 Bitcoin Falls 40%
(China to Shut Down Crypto Exchanges)
Friday SEPT 1st | BTC Reaches New ATH at $4,909.91
Friday SEPT 8th | China planning to shut down local crypto-currency exchanges
Friday SEPT 15th | Bitcoin value plummets after China orders trading in currency to cease
Friday SEPT 15th | BTC Falls to $2,977.59
SUMMARY: China impending regulation and then outright crypto ban causes exodus out of Bitcoin resulting in a 40% drop in two weeks.
IMPORTANT NOTE: Chinese traders then found a way to bypass the regulation by using P2P and VPN services to connect with offshore exchanges so they could continue participating in Crypto.
February 2018 Bitcoin Falls 68% in 45 Days
(China Found Exchange Bypass and Locked it Down in Firewall)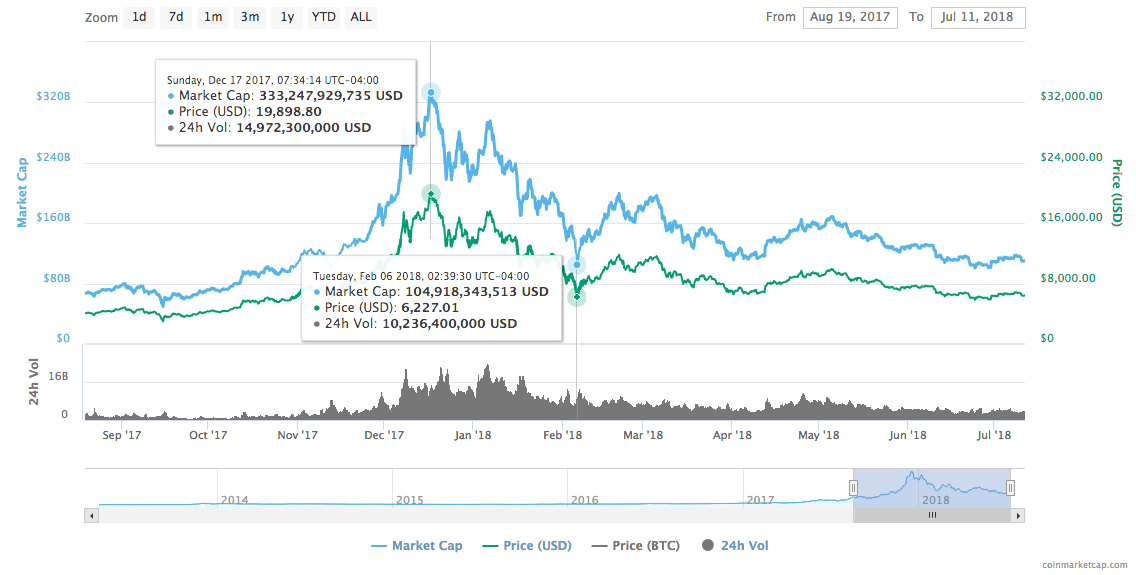 Sunday DEC 17th | BTC Reaches New ATH at $19,898.80
Monday DEC 18th | China found the "bypass" and applied a mass access list in their Chinese firewall blocking all connections to "out of country" exchanges and also began a systemic crackdown on Bitcoin Miners. This news did not come out until early January 2018 and continued pushing through February 2018, forcing downward pressure on Bitcoins price.
Tuesday FEB 6th 2018 | BTC Falls to $6,227.01

CHINA SUMMARY:
By China blocking its people from participating in crypto trading, the new ATH was not sustainable. Regardless if Coinbase was signing up over 100,000 new accounts per day, without the buying power of China, the demand and trading volume once again quickly faded and Bitcoin lost 68% of its value in about 45 days.

Weaponized BTC & Spoofed DoD Addresses

May 17th, 2017 The Internet Security Community was on RED ALERT as a mass ransomware virus spread to over 200,000 computers in 150 countries. The program, WannaCry or WannaCrypt or WannaDecryptor, locked these pc based computers down and demanded $300 US Value in Bitcoin be sent to one of four Bitcoin addresses in order to unlock the users now encrypted files.
The event generated a significant amount of awareness on Bitcoin and is the first known event where
Bitcoin became Weaponized
.
If you need a WannaCry refresher this link provides a quick overview, thanks goes to Wired.
Now let's move onto the more Interesting Parts:
1) The main attack took place in May of 2017, however there were transaction testing completed prior to the full scale launch. Although Bitcoin users are "mostly" anonymous, the transactions themselves are in plain sight for all to see simply by using the Blockchain explorer.
There were 4 main WannaDecryptor Addresses Utilized

WEAPONIZED BITCOIN?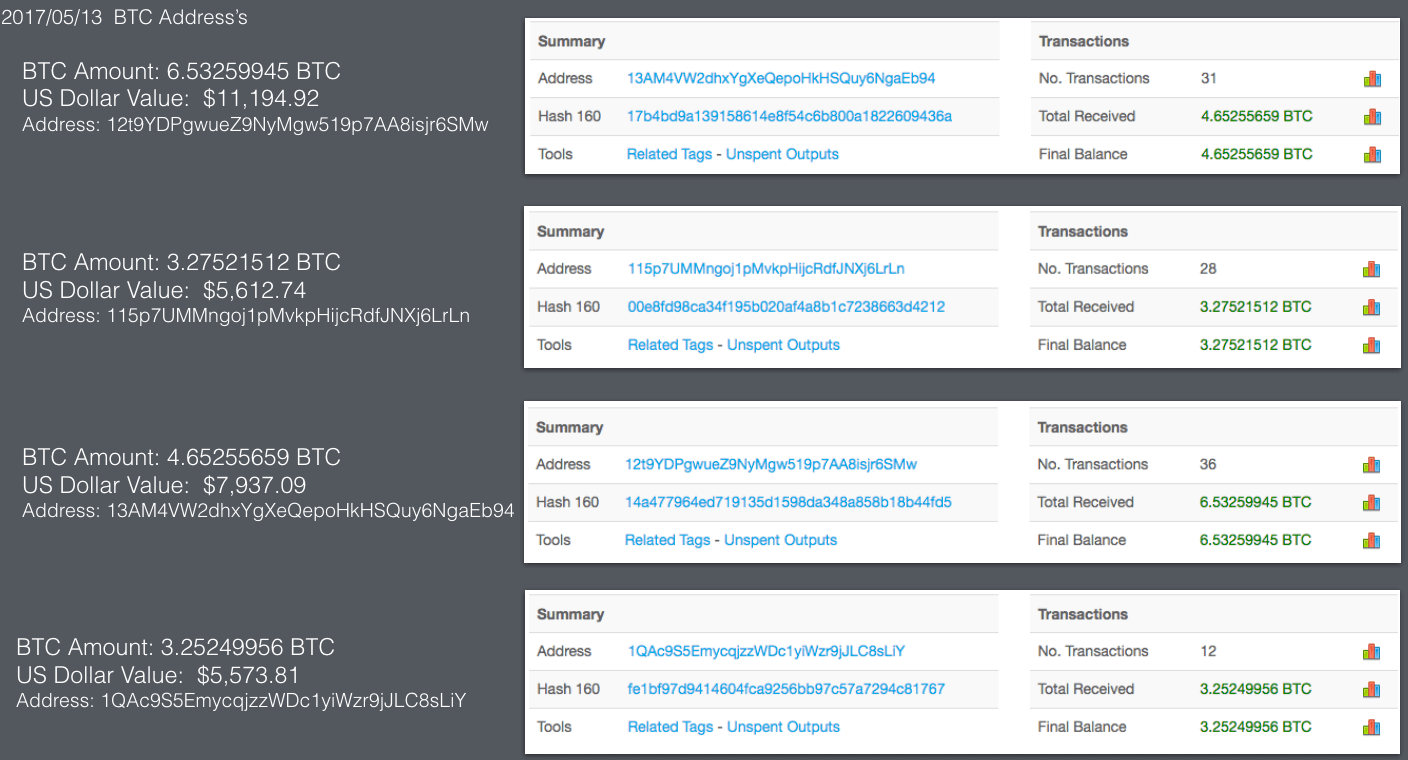 View their transaction history and current balances via Blockchain:
View |
WannaDecryptor #1 Address: 12t9YDPgwueZ9NyMgw519p7AA8isjr6SMw
View |
WannaDecryptor #2 Address: 115p7UMMngoj1pMvkpHijcRdfJNXj6LrLn
View |
WannaDecryptor #3 Address: 13AM4VW2dhxYgXeQepoHkHSQuy6NgaEb94
View |
WannaDecryptor #4 Address: 1QAc9S5EmycqjzzWDc1yiWzr9jJLC8sLiY
The first Test Transaction appears to have been sent on March 31st 2017 which was probably done to test the transaction process prior to the ransomware being sent out to make sure "payments" would complete.

2) When we Googled the Bitcoin Addresses, which were utilized to distribute the ransomware, we found hundreds and hundreds of domains which were setup as honey pots and once visited would immediately begin a download. For security purposes we're not going to directly link to the websites, however we'll provide a few examples below.
http://www.hzymsxy.com/ (which has since been removed 100%).
http://www.hrbwsxx.com/ (still active)
Website Hosting Server Location: San Jose, CA
Registrant Contact: lixiaolong
Mailing Address: haidianqu,haidian,qinghetiyuandonglu2hao, shixiaqu beijingshi 100000 CN
Email: [email protected]
Here's a screenshot of the site: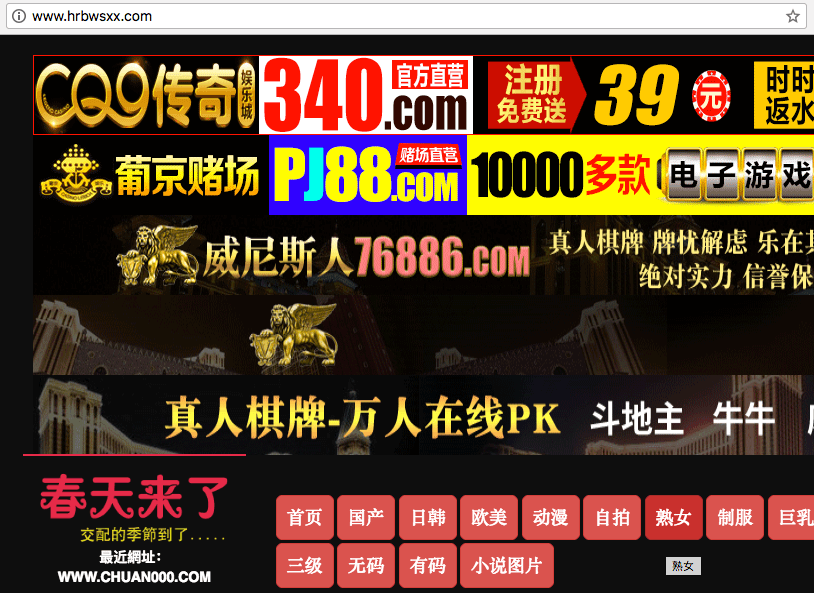 When we searched the WHOIS we found that the majority of these were all registered with fake Chinese info. The emails registered for contact, although generic, are active, working, and connected back email providers in China.
Example: qq.com
Organization: Shenzhen Tencent Computer Systems CO.,Ltd
Mailing Address: , Guang Dong CN
The email registered on qq.com still shows active to date:

3) Vanity Wallet Addresses.
People understand that long string of cryptic characters and numbers which comprise a Bitcoin Address to be randomly generated. What many do not know is that Vanity addresses can be created within the first six characters.
Example:
1BoatSLRHtKNngkdXEeobR76b53LETtpyT (vanity portion is "Boat")
1gigaByteSVzV6B7aoPdysVaYNfkh87si (vanity portion is "gigaByte")
1AUSTRALiApPytKTdRmvEyuGLxQFjsbhL2 (vanity portion is "AUSTRALiA")
1HouSEGuESTsL9244MpRPpn6ZgANQS3RkQ (vanity portion is "HouSEGuESTs")
One of the addresses created and used in the transaction testing process for the ransomware is also a vanity address, can you spot it below?

Here it is with the Vanity portion set to bold: 1
FuckU
T7EhQ2dbuk3bErxS4RcFzDyX8u8d
Yes, thats a bit direct.
Balance via Blockchain explorer here:
View |
1FuckUT7EhQ2dbuk3bErxS4RcFzDyX8u8d
Now this is where it gets really interesting.
When we ran a BTC Payment Chain Trace, we found 5 simultaneously run test transactions originating from 5 different Vanity Addresses to the Main 4 WannaDecrypt Addresses.
These originating vanity addresses all started with 1DoD, as in Department of Defense. Clearly someone, or the group behind it, was attempting to frame up the DoD by spoofing the vanity address with DoD. So if anyone ever examined the transaction history, fingers could begin pointing.

View the transaction history and current balances via Blockchain:
View |
Spoof DoD #5 Address: 1DoDiKMRSxpqUFMqtag4vdz1gyPAXVD6rQ
View |
Spoof DoD #4 Address: 1DoDiKhQ3zHGN4EHZY23n2JuyPDfj2GdAj
View |
Spoof DoD #3 Address: 1DoDiK1KPtkpmhV9zMD1ZFkKYuWFwu1zc4
View |
Spoof DoD #2 Address: 1DoDiKh6rarBwH64Sxm2anPYqLEv1w2Ttc
View |
Spoof DoD #1 Address: 1DoDiKWra2u6pkhuED86s41hDoYm3wvcHz
The $27 Billion Mystery Address

So how does all this connect?
The majority of the test transactions all linked back to multiple addresses, however many of them appeared to have had a common destination address utilized for test transactions to be transferred back into. At the time of the hack, the destination address had processed over $2.5 BILLION in Bitcoin.(1.4 Million BTC)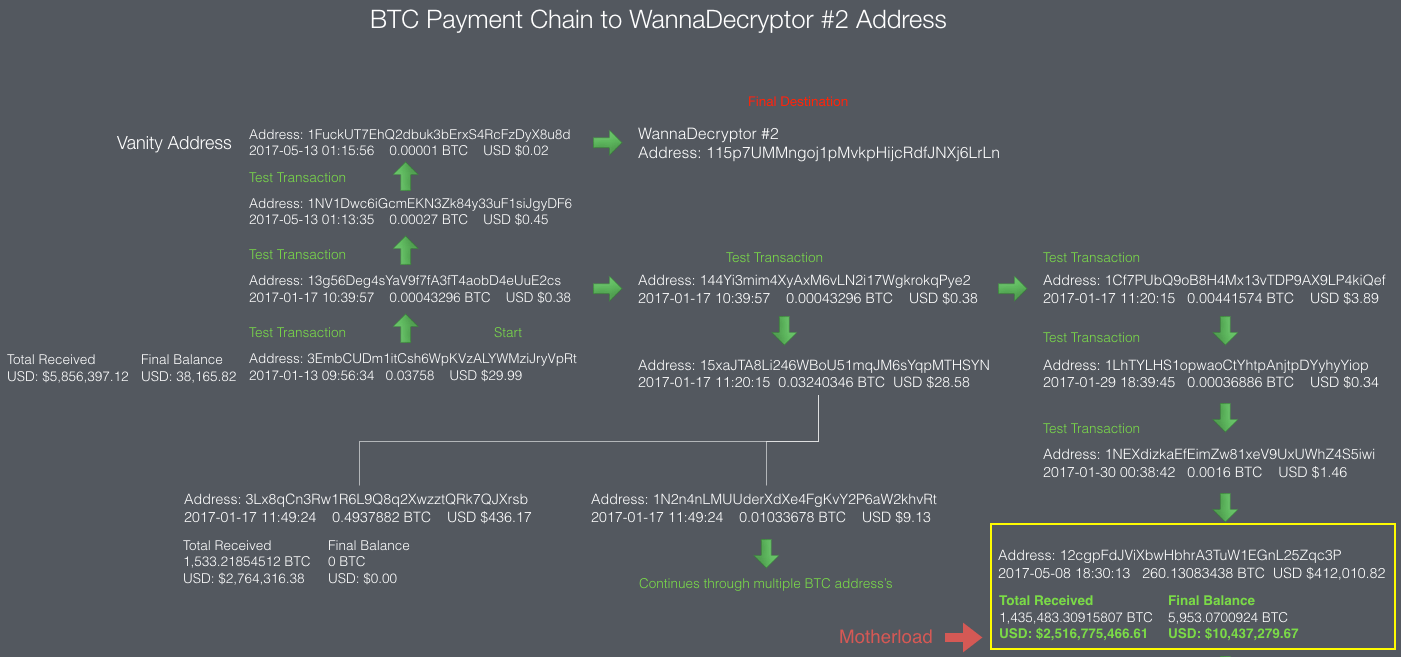 The destination address, according to search on https://www.walletexplorer.com/ was a Hot Wallet belonging to the exchange Poloniex. Now, let's be VERY clear, we're not implying in any way shape or form that Poloniex had any involvement whatsoever in the ransomware. We're simply showing that the purported individual or group potentially linked to the ransomware was moving some of their transactions though Poloniex and probably without Poloniex having any knowledge or idea. Considering the high volume of transactions and lack of tracking technology at that time, it would have been next to impossible for the Poloniex exchange to have had any insight or awareness of this taking place.
According to TechCrunch, In February 2018 Poloniex was acquired by Circle for $400 Million.
Circle acquires cryptocurrency exchange Poloniex
Circle is backed by Goldman Sachs.
Circle Investors
GS is very smart and if there were any doubts about the future of Bitcoin playing an important role in finance, if not one day dominating it, they should be fading at a quick pace now.
So where is the $2.5 Billion Dollar Bitcoin Address at today? It's sitting at over
$27 BILLION in Transactions !!!

To paint a clearer picture,,, Bitcoin Total Market Cap is $107 Billion. This one "motherload" of an address has processed $27 Billion in BTC,, thats almost 30% of the Entire Market Cap of Bitcoin!
In fact just sitting on Blockchain explorer for 1min, we took a snap of this transaction.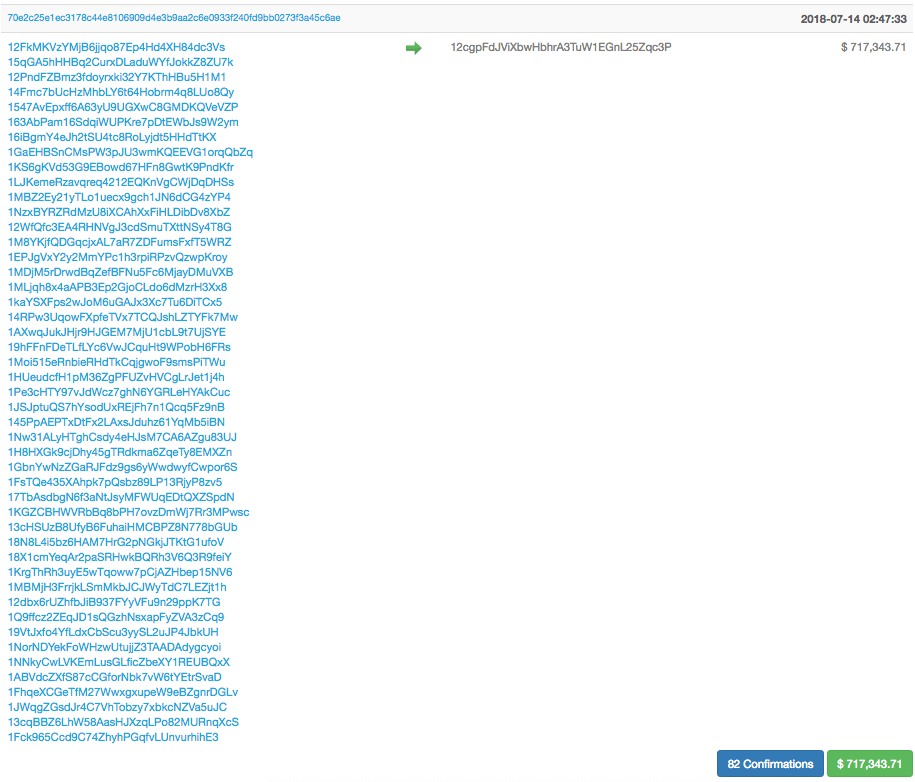 Yes, thats $717K USD Value moving across the Blockchain. It's not an isolated transactions, there are millions being processed every single day.
Have a look for yourself via Blockchain explorer:
View |
$27 Billion Dollar Address: 12cgpFdJViXbwHbhrA3TuW1EGnL25Zqc3P
Conclusion:

It's very apparent that China possess systemic control of Bitcoin mining, trade volume and most importantly the combined byproduct, through regulation statements, price.
Considering Wall Streets move into crypto, institutional investor adoption, and new funds entering the space (currently around 249) China could have the power to sway significant influence. Even big hitters such as Steven Cohen of
Point72
have invested in the latest crypto hedge fund, Autonomous Partners, which was started last year by
Arianna Simpson
.
If China did in fact want to control a new dominating currency, Bitcoin is not only with in reach, but under their fingertips. The plan would be simple, China could publicly state they are removing any bans and/or regulation on Bitcoin and/or moving/backing their national currency with BTC. The result? We could easily see the price skyrocket to $50K, $100K or more in a VERY short period of time.
More to come....
Notifications
If you would like to be kept updated on the latest in Crypto, including Alerts on Bitcoin Price moves before they occur, join our list.
[wpforms id="332560" title="false" description="false"]
About the Author:

James Ross is the Co-Founder and CEO of HedgeChatter
HedgeChatter is an analytics company which uses social data
and sentiment analysis to forecast US Stock and Crypto Prices.